#DailyWings: "I'm glad you're getting a chance to bust your chops on the journalism block." -an anonymous friend of mine
Introducing a new weekly post series on my blog: "Observations of an Editorial Intern" (as inspired by the CAFME Summer Intern Diaries)! This series focuses on my experiences of interning as a journalism student for a town publication. Any viewpoints expressed on my blog are not reflective of the publication I work for.
~ ~ ~ ~ ~
This isn't reporting class, I thought at my new work station. This is the real thing.
The first day tends to be the most nerve-wrecking. You're getting used to the work environment, the publication's style, the pacing. It's the one day when you really feel like an intern, because everything is so new.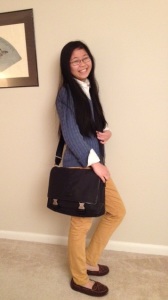 My "working girl" outfit
Friday was my first full work day at Chapel Hill Magazine's THE WEEKLY, where I will be serving as an editorial intern for the spring semester. I report on local news and events, take photographs, conduct interviews for profiles, copy edit articles and anything else that needs to be taken care of.
READ MORE