#DailyWings:
"We live not only in a world of thoughts, but also in a world of things. Words without experience are meaningless."
 -Vladimir Nabokov
This post is a part of my blog series, "Observations of an Editorial Intern" (as inspired by the CAFME Summer Intern Diaries). This series focuses on my experiences of interning as a journalism student for a news publication. Any viewpoints expressed on my blog are not reflective of the publication I work for.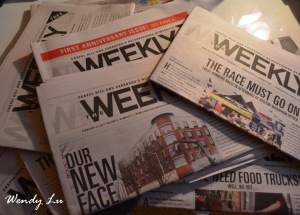 This semester, I completed an editorial internship at The WEEKLY, the town newspaper published by Chapel Hill Magazine.
Last Monday, I wrapped up my last few assignments for The WEEKLY and concluded the spring editorial internship. Walking out of that office for my last time this semester was bittersweet, as the end of most valuable experiences — ones that are both challenging and rewarding — tend to be. 
I like to think of the past — in this case, the "past" few months — as one huge timeline. Placing a finger at any point on the timeline, I remember where I was in the internship process at that point and how much there was still ahead of me. 
READ MORE