#DailyWings: "I'm glad you're getting a chance to bust your chops on the journalism block." -an anonymous friend of mine
Introducing a new weekly post series on my blog: "Observations of an Editorial Intern" (as inspired by the CAFME Summer Intern Diaries)! This series focuses on my experiences of interning as a journalism student for a town publication. Any viewpoints expressed on my blog are not reflective of the publication I work for.
~ ~ ~ ~ ~
This isn't reporting class, I thought at my new work station. This is the real thing.
The first day tends to be the most nerve-wrecking. You're getting used to the work environment, the publication's style, the pacing. It's the one day when you really feel like an intern, because everything is so new.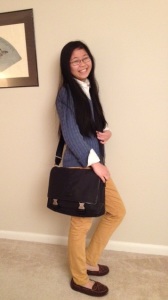 My "working girl" outfit
Friday was my first full work day at Chapel Hill Magazine's THE WEEKLY, where I will be serving as an editorial intern for the spring semester. I report on local news and events, take photographs, conduct interviews for profiles, copy edit articles and anything else that needs to be taken care of.

Even though I've only had one official work day, it felt great to stay productive. Working 9 a.m. to 5 p.m. can feel like a long stretch, but when you're in the zone and focusing on your work, time passes by rather quickly.
Still, there is still so much to learn. Interning at a local publication gives you the opportunity to take a glimpse at what being a journalist is like on a daily basis. Suddenly, it's not about you and your squeamish feelings over talking on the phone with strangers. Ain't nobody got time for that. It's about working as part of a team to produce quality news stories for local consumers of media.
At the beginning, it's tempting to regress into shy mode and not talk a lot; I tend to be this way, especially when I'm nervous. But I've realized that even if you aren't very confident at first, once you start acting and speaking with confidence, you'll soon start to feel that way, too. Admittedly, this is something I'm trying to get better at — especially when there are sources on the other line. You represent the publication you work for when you talk to them, after all.
It's easy to just sit and listen to other colleagues make conversation, but at some point you should just decide to jump in. It helps to get to know your team members, whom you'll be working with for the next several months. There will always be something you can talk about; you might even be surprised. For instance, the moment I chimed in was when the topic was on the publication style guide; this was something I could relate to because I'd written the bloggers' style guide for Blue & White magazine. You have valuable opinions and experiences (I mean, if you didn't, you probably wouldn't have gotten the internship) — share them!
Of course, every office environment and "work culture" is different. The pacing in a newspaper office — where there are daily deadlines and hundreds of reporters working on stories — is different than the pacing in a magazine office, where features are often due on a weekly or monthly basis. Our office has a cozy kitchen and lobby with couches, which are nice to visit when I want to stand up and take a five-minute break from desk work.
Two of the things that make me happiest are writing and traveling. The great thing about journalism as a career is that you don't have to choose between writing at a desk and discovering the world. As a journalist, you can do both. You're serving the truth. You're learning about the community and attending events you otherwise wouldn't have. You're telling real stories about real people. Some time in between researching the events I'll be covering and typing up interview notes on Friday, I thought to myself: Oh man, I'm one step closer to my dream job! (In a way. Baby steps, right?)
Dare to step out of your comfort zone.

What are some things you'd want to know about internships or what "a day in the life" is like, particularly in the journalism industry? Do you have any tips from personal internship experiences?