#DailyWings: "All you need is love. But a little chocolate now and then doesn't hurt." ― Charles M. Schulz
I am really excited about today's edition of "The SELF Diet," mainly because this was the first dish that made me actually love cooking. This dish, a lemon-garlic spaghetti piccata, was inspired by a recipe for "Linguine with Tuna, Capers and Raisins," which I found on my Epicurious iPhone application (if you thrive in the kitchen and have a smartphone, download this app now). This dish is perfect for potlucks or, better yet, a romantic dinner date at home (think "Lady & the Tramp"). You can either make the pasta before your date arrives, or you can make it together (there's no better way to bond with someone than to prepare a meal).
Another reason I've looked forward to writing this post is that my favorite food, as some of you may be able to guess, is pasta. (I'm a carb fanatic.) Pasta is an excellent "base" food, just like rice or quinoa. You can add almost anything to pasta and it'll taste delicious. To me, there's nothing heartier or more delicious than noodles tossed around with some spring vegetables or chunky meat and a creamy sauce.
While today's recipe is vegetarian, I'll give you some tips toward the end of the post about how to incorporate meat and other fixings. I created this dish by being adventurous with a single recipe; a single bit will give you a burst of various flavors and textures. Don't be afraid to experiment with different ingredients and herbs to suit your personal tastes; let me know in the comments section if you decide to make this dish and what you did to make it your own!

The Recipe: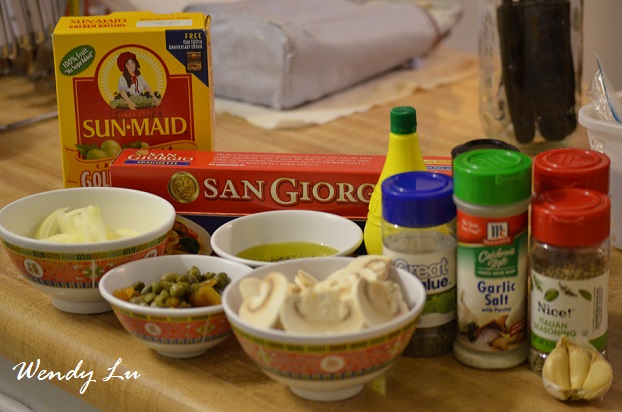 1/4 lb San Giorgio spaghetti
1/2 yellow onion, sliced
1 cup sliced mushrooms
1 cup baby spinach, washed (not pictured)
1/2 cup Sun Maid golden raisins
1/4 cup drained Goya capers (1/2 cup if you think the taste of capers is too strong)
1/2 cup extra-virgin olive oil with 1/2 tsp Italian seasoning
1 garlic clove, chopped
1/2 tsp basil
1/2 tsp garlic salt
1 tbsp lemon juice
Optional: Parmesan cheese, parsley
1) Bring a pot of water to a boil and cook spaghetti until the pasta is al dente.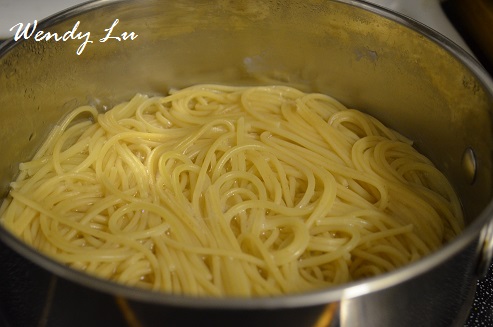 2) As the spaghetti cooks, toss the onion into a large frying pan with the olive oil, garlic and Italian seasoning for about 3 min on medium-high heat.
3) While the onion is still crunchy, add the mushrooms and continue cooking for 2 min. Then add the baby spinach and toss until the spinach leaves have completely wilted.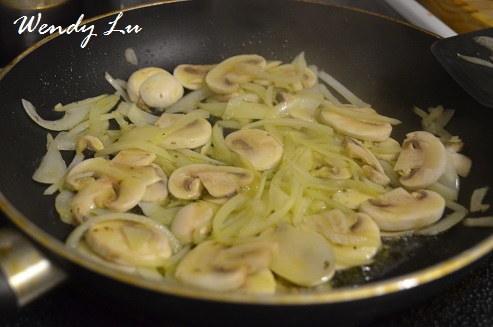 4) On medium-low heat, add the capers, golden raisins, basil, garlic salt, lemon juice and parsley (if desired). As the lemon juice and olive oil simmer, the mixture should thicken slightly. Be sure to taste the sauce and gauge whether you need more lemon juice or not. Turn the heat off.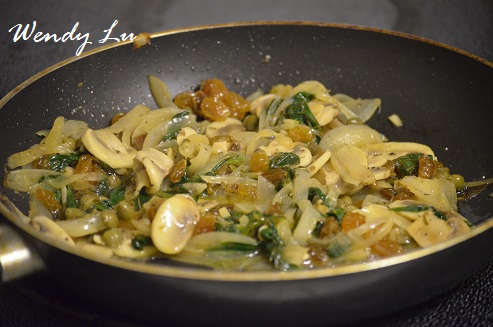 5) Drain the pasta and toss well with the vegetable-lemon-garlic mixture. Sprinkle Parmesan cheese on top if desired. Serve while it's still hot, and enjoy!
Estimated Calories: 750 (or 375 calories per person)
Estimated Time: 20 minutes
Serves: 2 (I usually make enough for two people so that I have lunch for work the next day. ;))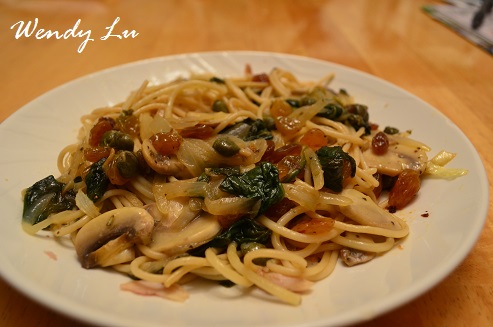 Feeling Creative?
If you cook the spaghetti first: Mix in a tbsp of olive oil after draining to prevent the spaghetti from sticking to the pot.
If you like a bit of crunch: Chop 10 almonds (Blue Diamond is my favorite brand – their almonds are absolutely delicious!) and toss them into the frying pan at the end when you add the capers, golden raisins, etc.
If you're a meat lover: Make chicken piccata by adding slices of grilled chicken breast. (Bonus: If you have leftover rotisserie chicken, pull off pieces of chicken and add it to your spaghetti piccata. It's all about using what you already have in your fridge!)

Is there a recipe you'd like for me to try out? Comment below with a link to the recipe or tweet @wendyluwrites with the hashtag #TheSELFDiet.