Only two more hours until the final countdown to the new year of 2011! Regardless of where you are celebrating your New Year's, I hope your last few moments of 2010 are memorable and special. Now for my entry for the Eye Candy Blogfest, which is hosted by Vicki Rocho at her blog, Rambles & Randomness. The idea is to post my single favorite picture. I couldn't literally choose which photo was my favorite, so I just decided to post ONE of them. :P Here is mine: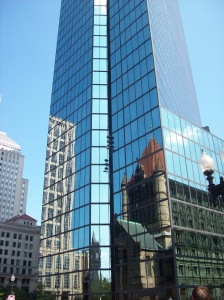 This was taken in Massachusetts. I love it because of the different reflections of the buildings…ah, how I love skyscrapers and city life! I own all rights to this photo.
Well, here we go! As a Facebook friend said, "happy birthday, time!" Hope you all have a fantastic New Year's. =D
Here is one of my favorite songs and YouTube videos. It is a little sad, of course, but it definitely puts things in perspective. When I listen to this song, I am reminded of the importance in living life to the fullest, never taking anything for granted, and appreciating every moment I have. :)
*holds up a virtual glass of grape juice* Here's to a new decade full of happiness!
Here's to a new beginning.