Question of the Day: If you could be famous for one day, what would you like to be famous for?
In my last post, I discussed what are the
steps to creating an ideal New Year's resolution
. With only a couple days left of 2010, I have created my yearly checklist of resolutions for 2011…this year, I have 28. Some people call me crazy for having so many goals, but for the past three years it has actually worked pretty well. This past year in 2010, I completed 21 out of 29 resolutions, which is kind of cool if you really think about it. :)
It's been a pretty tough year for me what with all the transitioning from high school to college, but I do feel proud for having accomplished so much as well….I got all A's in my first semester of college, learned how to control my temper, went "green," landed a position at two college magazines, and very importantly: started blogging.
Back in January
, I aimed for 20 followers by the end of the year. Now, I have 60! As cheesy as this sounds, thanks so much for reading my blog and believing in me and my writing. :D The comments I get on my entries constantly give me motivation and support, and they really mean a lot. So thank you!!
So what are [some of] my resolutions for 2010?
A Sneak Peek at My Resolutions List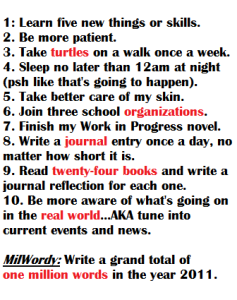 Several of these resolutions are pretty formidable tasks, but I'm really excited about them. I love writing so much, but I don't feel like I delve into my passion enough. If I really want to be a journalist, a storyteller, a writer…then I need to soak myself in words and the art of writing. Sounds fun, eh? :D
I also set aside some important (some mini, some big) goals for this blog, .:The Red Angel:. Blogging has become not only something fun for me to do, but also a part of my literary career as a writer. At the very beginning, this blog was more of a project. An experiment. Just something to try out. And now, it has become a part of me and what I do. I'd really like to continue doing this and make this blog the best that it can be. :)
Goals for the Blog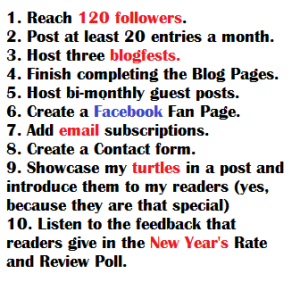 Yes, yes, I'd like to receive some feedback from YOU as to how I can improve the blog, what you'd like to see more of and less of, and what new additions I could add. I will be hosting this poll on January 2nd, since I know many of you are busy now what with the holiday season and having quality family time and preparing for New Year's Day.
What do you think of my goals? Have you made a New Year's resolution yet?