Question of the Day: What was your prom like?
Happy Grey Sunday! Where I am right now, the sky is rather dull-looking but the winds feel nice and breezy! Sorry these prom pictures are so late! I was naturally exhausted when I got back home on Friday, and yesterday I spent half the time cooking and half the time nursing my poor aching feet.
Our theme for this year's Prom 2010 was A Night On the Town: New York, New York. I didn't take a photo of the actual prom area because unfortunately it wasn't as well-decorated as I'd hoped it to be. There were only large street signs with famous New York street names like Broadway and 42nd St. On our tables there were several plastic sunglasses, and the ceiling was adorned with bright yellow lights. Other than that, it was quite dark and plain.
Unfortunately, the music was a big disappointment. The only genre they really had was hip hop and R&B. I definitely don't have anything against that type of music, but it was literally ALL they played for the bulk of Prom. :( Only at the beginning and towards the end did they play other music such as Train. There was only one slow-dancing song.
Food included an assortment of many fruits, some amazingly delicious Cheddar cheese cubes, fried chicken and honey mustard, cookies, and much more yummy stuff!
Here are photos of my complete outfit that I wore to prom. Photos of my shoes will come soon. Enjoy!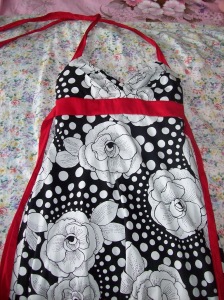 Halter Top Dress: The Body Shop. Approximately $30. Red sashes, printed flowers. Since I am rather a petite little creature, buying dresses for myself is pretty difficult. I found this lovely dress over a year ago and it still fits me! Love, love this dress…it's just formal enough for prom (see the ruffled lace at the bottom of the dress in another photo), but also appropriate for a dinner party. Only thing is that it's rather cut low so I had to fasten a safety pin at the back so it wouldn't show off too much. xD I feel really lucky that I didn't have to spend ridiculous amounts of money for my prom dress like some of the other girls did!!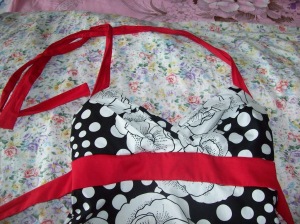 Close-up on the dress.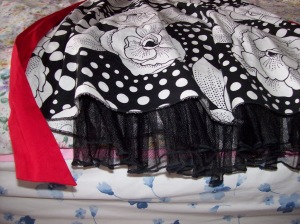 Lace detail! Gives the dress a perfect finishing touch. Makes the dress fancier and longer than it would've been without it. I usually don't like lace on my clothes but I really like this!!! What do you all think of lace detailing?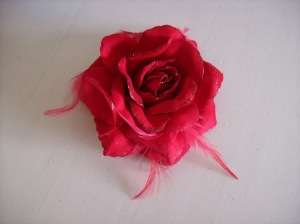 Flower Hair Accessory: Claire's. Approximately $5. Adorned with feathers and glitter. I chose this to match my dress and it also seemed like something that a New York flapper would've worn back in the Roarin' 20's. There's a clip on the back so you can easily fasten it on any side or at angle in your hair.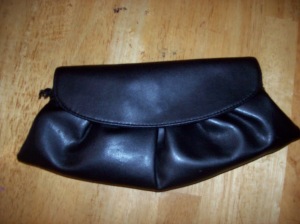 Black Clutch Purse: New York & Company. I forgot how much this cost. =( At first it doesn't look very roomy, but once you really open it up you see exactly how much space you have…which is a lot! I put in tons of stuff, including a bottle of water, my camera and cell phone, and lots more trinkets. Simple yet made fancy.It's a great addition for outfits of any occasion!
~TRA