Question of the Day: If you could bring just ONE food with you on a deserted island and you could only eat that food for ten days straight, what food would you pick and why?
When we were younger, my sister and I used to cook quite a lot. We'd make tons of goodies–lasagna, dessert pizza, even cakes from scratch. But since we've gotten so busy over the years, we also stopped handling the kitchen and thus our culinary adventures ceased. But now that summer is approaching, an urge to grab a mixer and a pan has taken hold of us once again.
Thus, we have started up our own cooking ritual. Starting last Saturday, my sister and I decided that from now on every weekend we would whip up something tasty for our family. Cook, bake, steam, broil…whatever floats are boat on that day. So on Saturday we had a big Cooking Kick-Off and made two dishes for dinner using recipes we found on our iPhone and Blackberry.

Without further ado…
Baked Spinach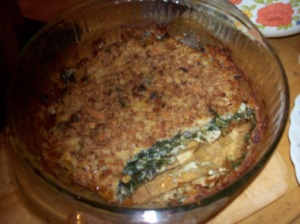 In a nutshell, this is a quiche. We didn't even realize it until the end because the recipe just said "Baked Spinach." The ingredients besides spinach, however, included eggs, cheese, milk, flour, and also bread crums sprinkled on top. We also tossed in some mushrooms just for giggles. AKA we made a quiche. It actually turned out quite delicious, but at the very end it got accidentally burnt from sitting in the oven too long.
Overall Success: 3/5 Stars (not bad for our first time cooking in a very long while)
Broccoli with Lemon Almond Sauce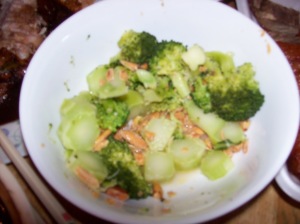 Okay, if I could name the dishes I make, this one would be called Lady Disaster. It took us about twenty minutes to blanch (peel the skin off of) and sliver the almonds. [[Quick Blanching Process: Let almonds soak in boiling water for one minute, then carefully peel skin off.]] We tossed the almonds in butter and lemon juice and poured it over cooked broccoli. It wasn't that great in my opinion. We could barely taste the lemon and it was basically just distasteful. The only good thing I have to say about Lady Disaster is that the almonds gave the broccoli and very interesting crunch.
Overall Success: 2/5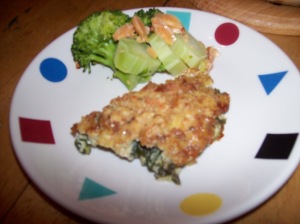 A small portion of both dishes. We created these two dishes to complement the rest of our dinner, which consisted of ribs and other meaty lovelies. I apologize for my crappy photos…I do not do a good job taking food pictures for some reason. =/
Since I happen to be talking about cooking and dinners and whatnot, I guess I'll just go ahead and tell you what I had for breakfast and lunch as well, hehe. For breakfast, I had one of Marie Callender's Pasta Al Dente selections. Chicken Piccata, of course. Delicious! For lunch, I had my own signature macaroni and cheese. =)
Macaroni and Cheese
I've had a sort of infatuation with macaroni and cheese for about nine years now. I cook my own with Velveeta cheese, a small spoonful of butter, and a drop or two of milk. It's soooo delicious, if I may say so myself. :P I've heard many different ways of cooking macaroni and cheese, including baking, cooked with eggs, etc…how do YOU do it?
I also sprinkle Mac&Cheez with garlic salt and garlic powder. Granted, it makes me stink an awful lot, but there's something about those little grains of salt and powder that make the texture of the macaroni even creamier than before. It's amazingly good! I know it sounds pretty gross, but every person who I have been able to convince to sprinkle a bit on their mac has loved it. So try it. :)
~TRA