Question of the Day: What are your goals for the Summer of 2010?
One month and seven days until I fly out for vacation. Four weeks until I graduate from high school. Six days until Prom. It is so hard to think that the first half of 2010 is almost over, and even harder to believe I will be 18 years old–an ADULT!– and going off to college to begin writing the next chapter of my life. It is exciting and terrifying at the same time. As always, I am sitting here wondering, Where did the time all go??
Anyway, enough of my contemplations. Recently, I went shopping with some friends for the first time in a while and bought some really neat things! I thought they'd be perfect for this season. What sort of outfits or styles do you enjoy wearing for warm weather?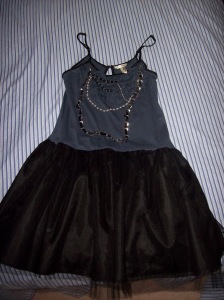 Dress: Papyrus, $12. The bottom skirt is lacy and slightly poofs out. Spaghetti straps. Tutu-like. Would look good with leggings and Converse.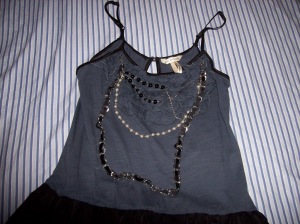 Up close on the jewelry attached at the top. Includes pearl necklace, ribbon necklace, and chain necklace. Ruffles on the neckline.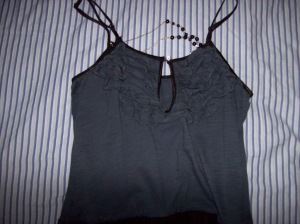 Up close on the ruffled details on the back of the dress. There's a small teardrop opening on the back as well.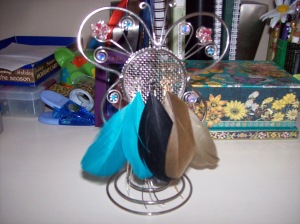 Earrings:
Charlotte Rousse. $4 with the purchase of two more sets of other earrings (not shown). Three pairs of feather earrings in one set! Great bargain. You can't really see, but attached at the top of each earring is a silver sliver…take a closer look at the bottom to see them hiding underneath the earrings. Bold.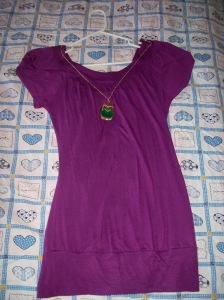 Top:
Rue 21. $5. HUGE bargain! I had to refrain myself from buying a whole set of them in different colors. I tend wear this top with black leggings but jeans look good with them as well. Wide neck opening. Very soft material and rather thin and stretchy.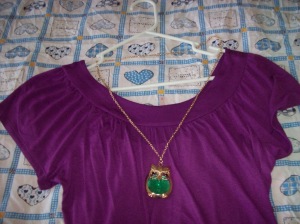 Up close at the top. As you can see, I enjoy wearing this top with the eye-popping emerald-green owl necklace.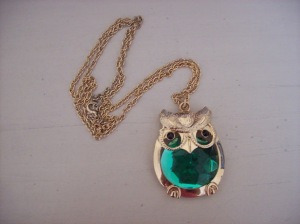 Owl necklace: Body Shop. A little less than $4. A bit expensive but I REALLY liked it. =)
What do you all think of these purchases?
~TRA
P.S. Prom is on Friday!! Photos of my dress and more will be up by this weekend.