Question of the Day: Who is YOUR superhero?
For those of you who have followed my blog for a long while (and I appreciate that!), you probably know that my favorite show is
Smallville
and that my favorite superhero of all time is indeed Clark Kent, aka
Superman
. Just a brief 1-phrase summary,
Smallville
is about Clark Kent growing up (from childhood to adolescence to early adulthood) and how he came to be who he is today: The Man of Steel.
This television series first started out as a WB show and is now hosted by The CW. It was actually my sister who discovered Smallville in 2000, and now…ten years later, the very last season is about to begin on September 24th. 8pm.
EEK!!! No words can express the excitement as well remorse mixing and mingling within me during these final days leading up to Season 10.
In addition, I just bought my Comic of the Year! What is that, you ask? Well, starting in 2009, I decided that each year from then on I would buy myself a very nice Superman comic book as an incentive for myself. Kind of like a self-Christmas present, a pat on my own back, you get the drift. One thing I love about the students stores here at the college is how they have a diverse multitude of books to choose from…including graphic novels and comic books. ;)
Aaaand luckily it was on sale for 25% off that day! I just couldn't resist…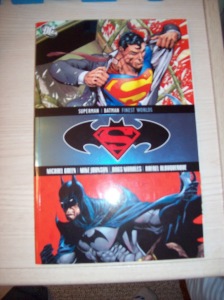 (Sorry for the bad camera quality here…couldn't get a good vertical shot; and yes, my camera is now fixed! :))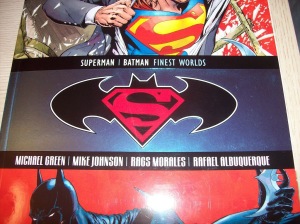 What happens when you combine the
extraterrestrial
powers of Superman with the gadgets and
bad-ass
attitude of Batman together? A comic book that's sure to be riveting…so bad-ass that it's out-of-this-world! :P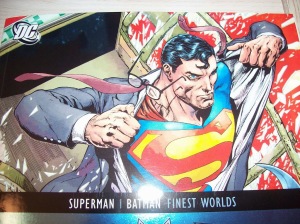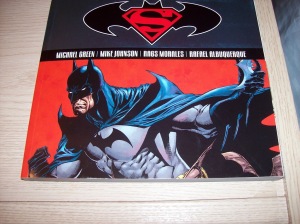 Oh yeah. Gotta' love it when Superman rips his shirt open to reveal the amazing S. And, of course, Batman's 60-pack abs, mysterious look, and dangerous toys are pretty darn awesome if you ask me.
The colors and shading and glossiness in this comic novel are sooo intense and full of depth…HUGE props to the publisher and the artists for using such awesome tools of creation!
So do any of you collect comics or know anybody else who does? (If so, YAY! I'm not the only nerd here!) What television shows are you just dying to watch and absolutely cannot WAIT for their premieres to air?
~TRA