#DailyWings: "And I am all the things I have ever loved: scuppernong wine, cool baptisms in silent water, dream books and number playing.ʺ -Toni Morrison
Despite the fact that I am still writing "2014" instead of "2015" on occasion, we are already in the month of February. Wow. I also just realized that yesterday marks six months since I started working at Personify as their web content producer. Wow. On Monday, Jan. 26, Andrew and I celebrated our two-year anniversary together. WOW.
The start of this year has been a lot more productive than previous Januarys, when I would spend a week being ultra-healthy and writing too many blog posts before falling into the post-New Year's slump. Instead, I spent most of the month organizing my closet, throwing out crumpled school papers, experimenting with new products, and putting together a bundle of unwanted but usable clothing and books to donate to local thrift/bookstores. I even plucked up the courage to drive for two hours during a road trip with Andrew, not to mention drive my car around a metropolitan city alone on a different night (totally not on my original agenda).
I have a feeling this year is going to be filled with twisted turns. The thing about surprises, though, is that you never know they're going to happen until they hit you. Surprises also come in different packages, such as (a-hem) monthly favorites. Here are mine for January.

1) e.l.f. Studio Baked Blush in "Passion Pink"
I decided to purchase e.l.f.'s Baked Blush during my Winter Makeup Haul, even though the idea of applying product with an actual makeup brush intimidated me. But this past month, I started practicing using e.l.f.'s Studio Small Tapered Brush to apply the blush over concealer and bronzer, and it's worked! My cheeks are flushed just a little bit, and I don't look like a total clown!
Since one of my goals for 2015 is to branch out when it comes to makeup and skincare products, I call that a success. e.l.f.'s baked blushes are only $3, which is an amazing price for a blush that works so well. The formula is great! When you look closely, you can tell there are electric bolts of Barbie pink throughout the product, which softens the peachy vibe. It's not completely matte (there's a slight shimmer), but it looks natural on your face and gives you a nice, healthy glow.
I still haven't mastered the art of putting blush on, but I'm getting there.
2) Minimalist Organization
Where do I start with this one? Sometime toward the end of December, I became obsessed with watching de-cluttering videos on YouTube (check out de-cluttering goddess Jessica Murphy aka Jambeauty89). There's something therapeutic about seeing a whole bunch of useless nonsense without "a home in your home" get thrown away or passed on to people who would actually value the stuff. I felt inspired to do the same with my own possessions.
During the first two weeks of January, I became obsessed with cleaning my apartment – not just the visible areas like my vanity and writing desk, but also the little crevices that get overlooked so often: old eye shadow pots hiding in the pit of a dusty makeup bag, pants that once fit but are now taking take up space in my chest of drawers, even plastic bags with crumbs and disgusting leftover food in my backpack (don't ask).
I was relentless in my de-cluttering. There were a few novels and magazines that I was holding onto but knew I would never read, as there would always be other books, other periodicals on my To-Be-Read list that are ahead of them. Into the donation bag they went. I got rid of old clothes, broken pens and pencils, bottles of discolored nail polishes and class assignments from way back when I was a sophomore in college. (That's eerie to say; it really is.) If I was teetering on the fence about an item, I decided to fall over to the side of "Get rid of it."
I cleaned out parts of my bathroom, storage cabinet and cupboard as well, but I mainly focused on my bedroom (the place in my apartment where I spend most of my time). Once it was all said and done, I looked around my room and felt so content. My desk was free of any loose papers and other crap. Every makeup product belonged in an organizer or designated makeup bag. The clothes in my closet were organized according to season and occasion. It felt good.
3) 411 West – Italian Restaurant
I mentioned earlier that Andrew and I celebrated our two-year anniversary. For dinner, we went to an Italian restaurant on Franklin Street in Chapel Hill called 411 West. Classy yet vibrant, the atmosphere of this restaurant is perfect for a romantic date night or family get-together. The food at 411 West reminds me of my culinary experiences in Germany – that is, no matter what I choose to order, I always love what's on my plate.
Admittedly, I only went to 411 West once in January. But having dinner there that night was so special that I couldn't help but include it in my list. Here's the entree I ordered: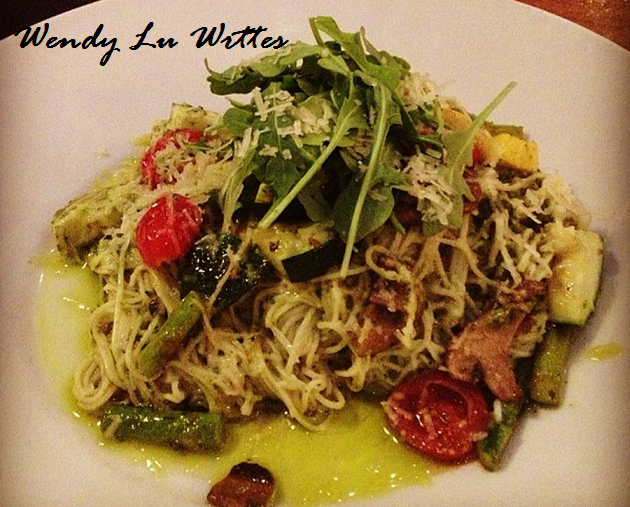 Hazelnut Pesto Angel Hair: "Angel hair pasta with a saute of arugula, asparagus, mushrooms, grape tomatoes, yellow squash, hazelnut pesto and goat cheese"
4) Be a Bombshell Eye Base in "Submissive"
This. Stuff. Is. Amazing. I got the Be a Bombshell Eye Base in "Submissive" in my November Ipsy bag and haven't been able to stop using it ever since. It's a buildable cream eyeshadow and incredibly pigmented, with shades of gold, bronze and taupe all swirled together.
Best of all, the eye base acts as its own primer (if that makes sense). You don't need any other primer because it's sticky enough to stay on and add shadows on top if you want. I like to wear it alone, using the white eyeshadow from e.l.f.'s Studio Prism Palette in "Smoke" as a highlighter on the inner corners of my eye. It looks so amazing! Add a tinted lip balm or gloss, and you get my everyday makeup look ;)
5) Agency FB – Font Face
Are you ready for the strangest "monthly favorite" of all? Recently I've been digging a font face called "Agency FB," and can't seem to stop using it for marketing materials and headlines. For instance, I used it as a font face for the newsletter and blog updates signup boxes on my homepage.
Here's what it looks like:

I just think it's so versatile. It can be sexy, dangerous (think the title of a thriller novel), professional – whatever you want. It also doesn't look generic or recognizable (like Comic Sans MS or Times New Roman), so people are more apt to think it's an original font. Most Microsoft programs already include the Agency font face family. If you really love it, though, some font websites allow you to download it for a price (may be more helpful for designers and other digital artists).
What do you think of Agency FB? What are your favorite font faces?
6. Blue Teardrop Earrings (Christmas Gift)
Andrew's mother gave me this pair of earrings for Christmas, and I have been wearing them nonstop since the holidays ended. They're dangle earrings with two pieces each – one Columbia blue stud, one steel blue teardrop. The backs are gold, which adds a more elegant look to them, and don't require connectors, which means you can just pop them in and out of your ear without having to worry about a piece falling out and getting lost.
This is the corresponding shirt I use to style the earrings (makes for a perfect work outfit, along with black pants and matching heels):