#DailyWings:
"It is better, I think, to grab at the stars than to sit flustered because you know you cannot reach them."
— R.A. Salvatore, Sojourn
I used to be one of those people who said they'd never go on any sort of diet because of how much they love food. Well, the latter still applies to me: I love to eat. (Who doesn't? In the end, no matter how terrible your day is, pepperoni pizza and cookies and other comfort food will always be there for you.)
But since coming to college, I've developed a bad habit of eating junk like processed edibles, unhealthy snacks and fatty meals because of the convenience. And, let's face it, junk food tastes pretty good. I was lucky enough to avoid gaining the "freshman 15," but having a fast metabolism doesn't necessarily equate to top-notch health, nor does it last. Earlier, it hit me that I'm going to be 21 years old in a couple months — well into adulthood — and, unfortunately, can't eat whatever the hell I want anymore. 
A few weeks ago, I made the choice to go vegetarian as part of my resolution to be healthier. Also, quite a few of my friends are vegetarian for various reasons, and they love it. Plant-based diets tend to be lower in fat and higher in fiber, because the focus is on vegetables, fruits, grains, legumes and seeds rather than meat and fish. 
Evidence
suggests that people who follow a vegetarian diet tend to exercise more, weigh less and live longer.
Being on a diet isn't always easy, especially for a first-timer like me, so my original plan was to try vegetarianism for only one week (no big commitments). That way, I could promise myself that I'd stick with vegetarian meals for a short period of time without feeling pressured to continue in case it didn't work out.
I decided to go vegetarian because I wanted to be healthier and feel less bloated after every meal. That meant cutting out meat — beef was never really my thing, anyway — but not eggs or dairy products (also known as lacto-ovo vegetarianism). But more than that, I wanted to be creative with cooking again.
I spoke with Suzanne Hobbs, author of
"Living Vegetarian For Dummies,"
 who said many
people who start out vegetarian tend to dwell on food restrictions
, which makes avoiding meat more difficult and following the diet less enjoyable.
"Thinking not so much in terms of what you can't have, but in terms of what is available that you can have is one way to do it," said Hobbs, who is also a clinical associate professor of nutrition at
UNC-Chapel Hill Gillings School of Public Health
. "Frame it differently in your mind. Instead of taking it [all] away, boy think of all the things you can have."
So during my week as a vegetarian, I branched out. Pasta dinners that would normally contain chicken or pork were modified, and my daily pepperoni pizza lunches were replaced with fresh 
1.5.0. on Lenoir Mainstreet
meals. I tried quinoa tabouli for the first time and blended ingredients together that created a unique combination, like rice and peanuts.
Many people often think of foods like tofu, chickpeas, quinoa, lentils and other types of legumes as "vegetarian food." (
Vernon Dursley
most notably described fruits and vegetables as "rabbit food.") But with every experiment in the kitchen, I couldn't help but think, "Why haven't I tried cooking with these foods before? I feel so silly for missing out!"
I've gleaned a few meals from my week as a vegetarian and posted photos below. If you're seriously considering vegetarianism or simply want some new ideas for meals, perhaps this will spark inspiration:
Props to my sister, Hope, for coming up with this veggie omelet: cheese, onion, tomato and spinach. Sides include an adorable clementine, bread rounds and cheese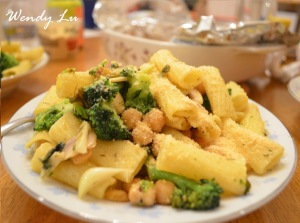 About an hour later, dinner was served: Chickpea, broccoli and mushroom rigatoni in a lemon-olive oil sauce (my own addition), dashed with garlic and seasoning
This hearty lentil soup is perfect for days when you are just too busy for homemade meals (A.K.A. you're a full-time college student like me…)
You can never go wrong with hummus and carrots, which is much more delicious than cookies or candy and makes you feel 10x better about yourself
Honestly, I thought sticking to a vegetarian diet would be more difficult. But that was only the case when meat was right in front of me or I had to turn down offers. Being able to cook my own meals and trying out different recipes made the experience much more fun and rewarding for me. Also, I felt a lot lighter — but not hungrier, which is common for new vegetarians — and felt full, not bloated, after meals.
Although technically it's been more than a week since my vegetarian ventures began, I've kept going! Well, I did end up going back to meat for a couple days, mainly because my mom made her delicious duck specialty over spring break and I couldn't say no. Since then, I've minimized my meat intake simply because I feel better when I choose a veggie omelet and fruit over bacon and eggs. This probably won't last forever, because if anything, vegetarianism taught me that well-rounded meals are the best. 

Have you ever tried a diet before? If so, what was the experience like for you? If not, would you ever?