#DailyWings:
"
"We are very good at preparing to live, but not very good at living. We know how to sacrifice ten years for a diploma, and we are willing to work very hard to get a job, a car, a house, and so on. But we have difficulty remembering that we are alive in the present moment, the only moment there is for us to be alive."
-Thich Nhat Hanh
It's been a while. With newspaper articles, magazine stories, research papers and midterm exams swinging at me like cherry bombs every few days, I'm beginning to understand how a juggler must feel. These days, I'm averaging four hours of sleep and barely have time to eat or take a mental breather. Occasionally, I'll watch an episode of "My Mad Fat Diary" just to remind myself not to go, well, mad.
I miss writing. To keep myself content, I have written some poetry. Short pieces, portholes for me to displace my strongest emotions.But I miss prose. I miss long-winded sentences that keep going and going until you aren't quite sure how you got from Point A to Point B but you know you're in a different place than you were before you started and it feels like a good thing.
It's true that I crank out two to four stories every week for the town newspaper, and it's been an incredible training experience so far. But last night, I cracked open my journal for the first time in a month. One month! I couldn't believe that it had been that long since I actually sat down to write for myself without worrying about making the sentences perfect. I miss making mistakes and letting them be. I miss writing for the love of it.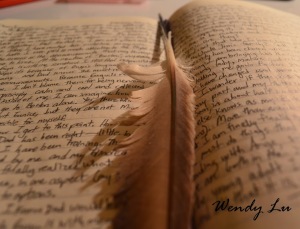 The thing is, when people find out I'm a writer, they always ask: "So, what exactly do you write? Why do you do it?"
I tell them it's impossible for me to go one week without writing — otherwise, I start to feel miserable and become a cranky person to be around. I tell them that going so long without writing makes me start to fall apart in every possible way. The lack of an expressive outlet, a canvas on which to put my thoughts, raw and dripping with intention and emotion, makes me feel like I'm trapped in a jar.
Here's the awful part. Last night, I only opened my long-neglected journal because, finally, I could feel myself slipping. My ability to stay on top of things — studying for school, reporting for stories, remembering to eat — had reached its threshold and was going downhill. Fast.
Let me say it again: I only began to write again because every other part of my life was beginning to crumble. Because I figured doing some journal work would allow me to focus on my "real" work — the work that actually counts. Pathetic.
That was the first time I wrote in a month, and for disgusting reasons. One whole month! I wondered, almost afraid of the answer, How can I call myself a writer when I don't even write consistently? Does this mean I've lied to the people who think I'm incapable of going a week without writing because I so obviously love and need it that much?
As I pondered over these questions, a part of me felt like a total fraud. One of the most flawed tendencies a writer can have is to only write when it's convenient. When the "itch" is there and time allows. As it goes, I've easily fallen into that trap.
Yet, something occurred to me. I'd labeled myself as an awful person for going on hiatus and practically abandoning my personal literary ventures. But then what made me return to my journal, and to this blog, again? The thing is, no matter how long it's been or for whatever reasons, I always come back.
Even though I'm working nearly every day toward my dream journalism career, I've realized it's not enough. there is still this need to take the time to be creative in my own way. I've flirted with different pathways — clinical psychology, medical school, freelance artistry, even archaeology, for God's sake! I could be doing anything else in the world, but the literary life just keeps popping up.
I chose UNC-Chapel Hill instead of some hipster arts and communications college in Boston to keep my options open, but I still went into journalism. Even when midterms loom ahead, I get inspired for my next poem and make sure to write down a couple phrases for later. Even when I'm writing a 50k-word novel and it totally sucks, I keep going. Even when I hate myself for ignoring the words in my head that are just begging to be written, I jot them down anyway — even if it is one month late. Maybe Albus Dumbledore was on to something when he said it's our choices that make us who we are.
So when people ask what makes me a writer and why, I'll tell them it's not because my life depends on it; to a certain extent that may be true, but I like to think that I'm a writer because I choose to write. Maybe it's better this way. Now that I think about it, telling people I don't live to write, but that I write to live, seems like such an easy way out. The truth is, I chose to come back and start again. And if that wasn't for the love of writing, I don't know what is.

It could be the black ink that just never rubs off the side of your middle finger. It could be that you stay up past midnight because the words are just flowing and, oh god, you don't know how long this high will last. It could be that your best friends all happen to come from stories — yours, especially. What makes you a writer?