QOTD: What are your thoughts on V-Day? Is this a special time for everyone to tell their loved ones how much they care, or is Valentine's just another Hallmark holiday?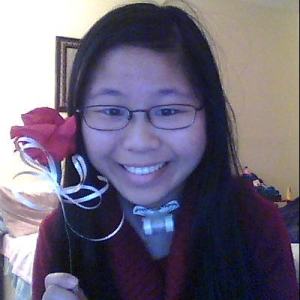 Happy Valentine's Day! <3 Bought myself a pretty paper rose :)
You can be sure that love was in the air today–all over campus. Students of all types of organizations were selling merchandise in the Pit: Purple-dyed carnations, candy, pink-and-red hearts, paper roses, chocolate-covered strawberries, the works. And it seemed as though there were more couples than usual holding hands and cuddling together. I even spotted one couple behind the dining hall, nuzzling against each other with their noses touching. I forgot to say "AWWW!" as I passed by. Oops…then again, they probably wouldn't have wanted me to interrupt.
I have the biggest urge to make an "LOLOL FOREVER ALONE" joke right now but I shall refrain. Honestly, Valentine's Day really isn't that bad. I mean, if we're going to have holidays about loving our mommies and daddies and loving our presidents and loving no school presents (that's what Christmas is all about, right?), then it totally makes sense to have a holiday dedicated to love in general. And it really can be fun. It can be as fun as you make it.
Besides, who says Valentine's is just for couples to enjoy? I bought a red paper rose this morning from one of those merchandise booths at the Pit, and you can bet I got it for myself! My mood instantly skyrocketed after that. Having the independence, the will and the money to treat myself to a small gift was so much more awesome than anxiously expecting someone else to do that for me, and I him. The thing is, before you can learn to love someone else you gotta' learn how to love yourself first. I also bought one of my great friends a pink rose, which made her really happy — and made my day even better!
After classes, I spent my afternoon tutoring adorable elementary and middle school-aged kids at an after-school program. We provided them with snacks (yes, candy too), a duo step show and art supplies to make Valentines for the local children's hospital. As cliche as it sounds, spending my time helping others is, I think, the most special part of this holiday for me.
Best of all, throughout the day I have received really sweet messages from my awesome sister and friends. I am really too lucky to have these people in my life. And here I am now, letting myself enjoy a crunchy-delicious apple with Nutella before I finish off the night with a free-writing session and the latest episode of Glee. On Valentine's Day, what could be better?