QOTD: What's your favorite way to organize your desk?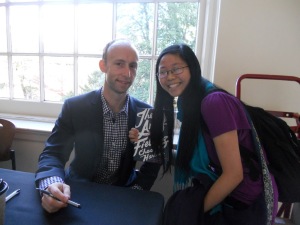 This past Friday, award-winning author
Chad Harbach
came to UNC-Chapel Hill and held a discussion called "The Art of Publishing." The
New York Times
named Harbach's 'baseball book,'
The Art of Fielding
, one of the top novels of 2011. After attending the discussion and listening to Harbach talk about his career and the writing process for his book, I had the privilege of meeting Harbach himself at his own book signing!
He said that he does his best to develop characters based on just as they are and not how they should be be perceived.
"I try not to color the reader's perspective of the character or focus on if the reader likes or dislikes the character," Harbach said. "I try to stay out of that relationship."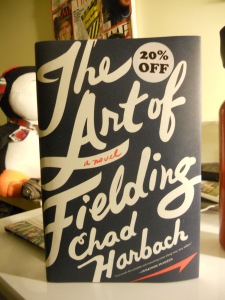 The novel, The Art of Fielding, took Harbach nearly 10 years to write and is only his first book, there have been some outstanding reviews by many highly-acclaimed authors and organizations. I can't wait to start reading! He even signed it for me! :D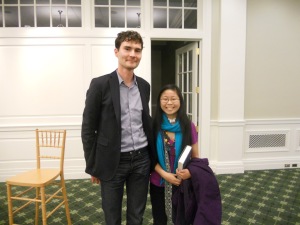 At "The Art of Publishing," I also got to meet literary agent Chris Parris-Lamb, who works for Gernert Company in New York. At one point, Parris-Lamb talked about the pros and cons of self-publishing versus traditional publishing.
"The world is getting noisier," Parris-Lamb said during the discussion. Traditional publishing is necessary for a writer to get that name out there and gain an audience.
On the other hand, he said self-publishing allows for more freedom in that "you don't need someone to tell you 'yes,'" or give approval.
"I like to think that all writers think their work has intrinsic value," Parris-Lamb said. "If they believe they're a failure if nobody likes what they wrote, then they're writing for the wrong reason."*
More information about Chris Parris-Lamb and Chad Harbach can be found here.
*All quotes reported by Wendy Lu.
2 responses to "Meeting Author Chad Harbach: "The Art of Fielding""