Question of the Day:
What would YOU wear to the Yule Ball (yes, another Harry Potter Reference)?
I literally just got back from .:Black Friday shopping:. about two seconds ago! I am SO pumped about my amazing purchases….in fact, I am SUPER EXCITED!!! We were only able to stay for about two hours or so and spent that whole time at JC Penny. They had the best sales going on and everything was discounted 30%-70% off. Totally worth getting up early!
One week ago, I signed for "The Intercollegiate Yule Ball," a local semi-formal dance especially for college students around the area to attend. It's based after the yule ball in Harry Potter and takes place Dec. 4. Thanks to Black Friday, I now have two more dresses to add to my wardrobe. As a rather petite, pixie-like little lady, it is extremely hard for me to find dresses and gowns that fit me well. By some miracle, I was able to find TWO today, and now I can't decide which one to wear to the Yule Ball! What do you think?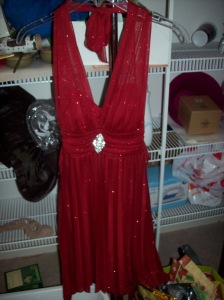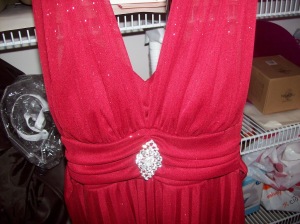 Red Dress:
Speechless. Original $50.00. Sale $19.99. Alas, these photos don't do this dress enough justice! It looks much prettier and shinier when it's worn. This is one of those dresses that you think isn't that great until you put it on and wham! you feel like a new person. =D There's a crystal brooch in the middle, which finishes off the dress nicely. I especially love the halter top sleeves….very elegant, yet modest.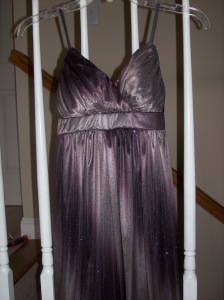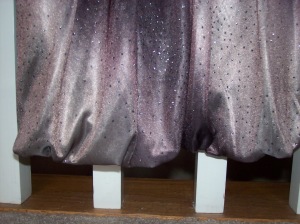 Purple Dress:
Ruby Rox. Original $50.00. Sale $19.99. There's something special about this one that totally caught my attention. I love the different shimmering shades of purple and the eye-catching sparkles. It's a little short and makes me blush, but hey we all need to feel beautiful sometimes. :)
I also bought a "pea-like" waistcoat! Winter is fast approaching and I've been meaning to find a nice, warm garment to keep me toasty while walking in between classes. I suppose it can also serve as my "dress robes" for the Yule Ball too, eh?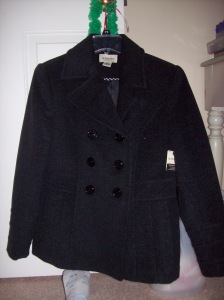 Waistcoat:
St. John's Bay. Original $200.00. Sale $50.00. I'm a sucker for garments with big buttons, I think they're so cool! This coat is part cashmere and is VERY, very warm. :3 Can't wait to start wearing it on Monday when I go back to school!
I bought A LOT more neat things, but they are all gifts for friends and family! D: Therefore I won't be able to post pictures, names, or prices at least after Christmas when they have been given. Sorry if I cause any disappointment with that! So…did YOU go shopping for Black Friday? How early did you get up? We drove to the mall around 9am…none of those 2am, 5am crises. Surprisingly, I would be more worried about getting trampled on by hoards of people than getting a $150 laptop or a $5 Barbie. xD
What do you think about these clothes? In your opinion, are they hot deals or pricey buys? Would you spend $50 for a coat? What should I wear to the Intercollegiate Yule Ball??
4 responses to "Black Friday Hot Deals: JC Penny Is My Hero"