#DailyWings: "You have everything needed for the extravagant journey that is your life." -Carlos Castaneda
Over the years, the term "New Year's resolution" has gained a bad name for itself. In the last week alone, I saw so many posts on social media with catchy lines like, "My New Year's resolution is to keep all the ones I had from last year" or "Whats my New Year's resolution? To have none."
If you're the type of person who thinks New Year's resolutions are tedious, useless or just plain silly, you are probably going to laugh at me. I am a New Year's resolutions geek. (Edit: This sentence has be translated into: understatement of the year – so far.)
Every December (since 2009), I review my resolutions and check off how many I've kept during the last 12 months. Then, I plan out an extensive list of new resolutions for the upcoming year. For each list of resolutions, I break down different categories of my life (e.g. health, personal, writing, blogging, education) and list sub-resolutions underneath. My resolutions are saved as a simple Microsoft document, and I use Chris Guillbeau's Annual Review spreadsheet to track my progress. Now here comes the are-you-bonkers-Wendy? part.

Last year, I made a total of 26 resolutions and kept about 15 of them by the end of 2014. Maybe 15 ½. (As much as I hate math, I like to calculate the number of points and "half points" I earn from completing each resolution to determine my overall success.)
Before we go any further, here's a confession: I don't always follow my crazy spreadsheets. I don't even look at my New Year's resolutions for most of the year. I try to, but how realistic does "tracking resolutions periodically" sound? Not very.
So why do I do it? Honestly, it's just cool to look back after a year and see what I accomplished (and didn't). It inspires me to keep believing in myself and knowing that I'm headed in the right direction, even though it may not always seem like it.
Don't believe me? Here's an idea for 2016 (even those of you who don't like making resolutions): Before the start of the new year, return to your old resolutions – or goals or whatever you call them  – and check off the ones you stuck to. Doesn't seem like many? Make a list of additional things you've accomplished. An accomplishment can be as big as landing a new job, or as fun and simple as learning how to cook three new dishes. You'd be surprised by what you remember. (Here's an example.)
Okay, now we can proceed. So…what about this year, you ask?
For 2015, I made 41 New Year's resolutions. 
*blush*
There is an explanation for this – I promise! Like I mentioned in the last blog post, my 2014 review, every year gets its own theme, or an area of focus that my resolutions become centered around. Last year's theme was "professionalism, independence and transitioning from college to the 9-to-5 world." (Gotta admit, it's weird not to have an "Education" category anymore.) This year is about my writing. And I don't mean that lightly. More than a third of my resolutions are related to my writing career.
Toward the end of last year, when I started struggling to follow my own web editorial calendar, I realized that I wasn't doing what I talk about – and think about – all the time: putting writing first. This year, my blogging goals are no longer under my "Writing" category. I've made "Blogging" its own resolutions category, because I believe that our dreams are worth the time, money and passion it takes to make them a reality.
I'd be lying if I said I didn't want my blog to become "popular." Every blogger wants that for their website, but to me, popularity is merely a by-product of what matters most: community, mutual trust and engagement. On Friday, along with other members of the diyMFA team, I shared my official 2015 writing resolutions on diyMFA.com. Here they are:
"I Resolve to Build My Brand and Community Through My Website"
"As a writer, I've always had trouble believing in myself and my work. Deep down, I know what it is I want to accomplish – it's plucking up the courage to go for what I want that's challenging. This past year, I redesigned and launched my new writer website, complete with a blog and email newsletter. Once it went live and public, I couldn't believe it! I was so proud. Here was a personalized online space for me to do whatever I wanted, write whatever crossed my mind.
It's been an exciting ride, but also a little intimidating. It's as if I've given myself permission – an internal freedom – to be a writer, even though I've technically been a writer all along. In 2015, I hope to take this writing project even further by solidifying my personal brand as a writer, following my blog content calendar and engaging regularly with the online writing community. Most importantly, I resolve to write honestly, consistently and from the heart."
In case you're interested in my complete list of 41 resolutions for 2015, here's a shorter version of that document: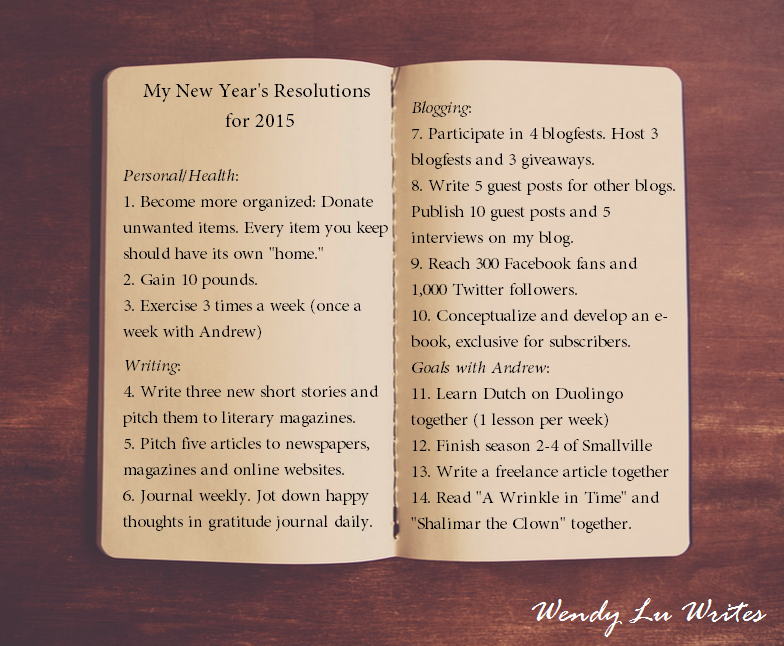 What are your New Year's writing resolutions? What do you hope to accomplish in 2015, and how is your focus different from what it was last year?