#DailyWings: "Hitting a low note on a piano with a really good bass is like taking a bite out of a rich chocolate cake." -Anja N.
Today's #DailyWings is brought to you by one of my best friends, Anja. Like me, Anja grew up playing piano (we even had the same piano teacher for a while) and appreciates classical music more than anyone I know. It's been years since she first made that simile, but it always stuck me and reminded me to appreciate all the good things in life, to live like a bon vivant. And, I mean, when you think about it, can't you just taste that chocolate and hear that bass? (The appropriate response to this question is, yes, you are all about that bass.)
I like to call December 2014 "pre-winter." Most of the month was characterized by relatively warm weather in North Carolina; in fact, I remember the sun was shining and caused me to sweat a day or two after Christmas! I've always enjoyed white Christmases the most, but the lack of snow didn't stop me from sharing the holiday spirit or enjoying time off work with my family. Here are just a few of my highlights from December:

1) My Mom's Amazing Duck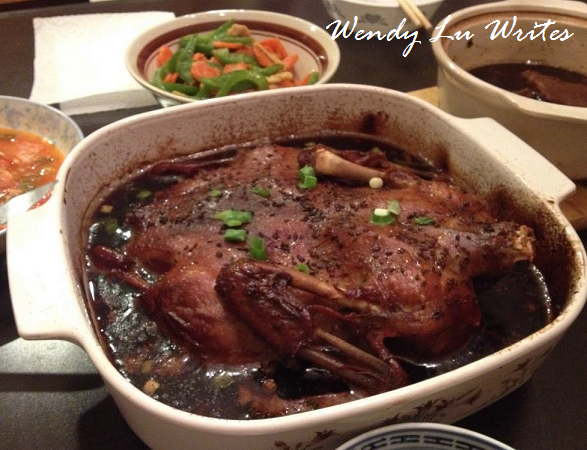 Ever since I can remember, my mom has made this amazing duck for special occasions. This year, we had it for both Christmas and Thanksgiving instead of turkey or ham. It's juicy, tender and flavorful – all-around amazing. I'm actually not sure what all goes into making this duck so divine, but I *do* know the secret ingredient. It's not what you think it is, so brace yourself: The secret ingredient is the casserole dish. It's true – my mother has always used the same white casserole dish with the floral print on the sides to bake this duck.
I talked about e.l.f.'s shimmer eyeliner pencil back in December for my "Winter Makeup Haul: e.l.f. Extravanga" blog post. After getting a little too excited over my swatches, I was afraid that, after applying it for the first time, the ELF eyeliner wouldn't be as exceptional as I'd originally thought – but it was.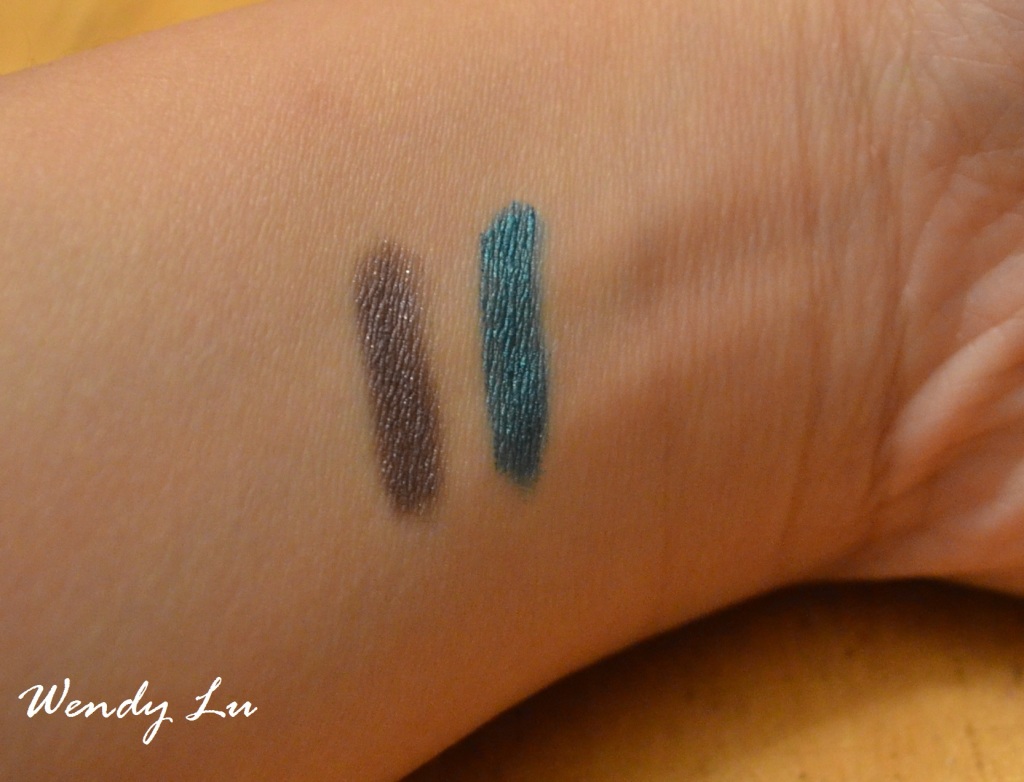 I wore this eyeliner on Christmas Day, and I absolutely love it. It's quite creamy, goes on your waterline smoothly and adds a pop of color to any makeup look (I went for a smoke eye that day, along with a navy blue dress and gray patterned tights). This particular shade, "Twinkle Teal," looks beautiful and youthful on any skin tone (it's inexpensive, too – only $1!) #obsessed
Unfortunately I didn't take a full-body shot of my entire outfit, but here are all of the makeup products (besides the shimmer eyeliner pencil) that I used for my look that day:
3) Personify's Holiday Party for 2014
For those of you who don't know, I started working at an executive recruitment firm called Personify in August. I produce web content for them, write press releases, newsletters and other marketing materials, and launch social media campaigns. It's a big leap from traditional journalism jobs, but the people are great to work with and I still get to indulge in my passion for writing every day.
In December, Personify hosted its annual Holiday Party. This was my first time attending (I interned for Personify in the summer of 2013), and it was magnificent. The location and setup looked exactly like a wedding reception: twinkling lights, indoor winding tree vines, dance floor. I was too busy eating hors d'oeuvres  enjoying the scenery to take any photos (also, I lent Diego, aka my Nikon D5100, to the lady who ran the photo booth), but it was a really special night that I'm glad I got to share with my coworkers.
Oh my goodness. This month I got sucked into the world of "Once Upon a Time," a fairy-tale drama television series on ABC that basically messes your childhood up forever. It features classic fairy tale characters, from Disney princesses and princes to Rumpelstiltskin and the Wicked Witch of the West. The location varies from season to season. For instance, much of season three took place in Neverland (where Peter Pan is the main antagonist), while a fictional town called Storybrook is a recurring location.
"Once Upon a Time" is probably the most incestuous television series I've ever seen; nearly everyone is either related or romantically involved with everyone else – and the sub-plots are hardly canon. Belle from "Beauty and the Beast" has a romantic affair with Rumpelstiltskin (who is considered "The Beast"), and The Evil Queen from "Snow White" is the half-sister of the Wicked Witch of the West.
I started out watching this show merely as entertainment during holiday break, without any intention of actually committing to more than a few episodes. I loved making fun of how plot-driven the whole series is; it seems like the directors are just putting random characters into different worlds while villains pop up whenever they feel like it. The problem, though? It actually kind of works.
5) Nyx Butter Lip Balm in "Lady Fingers"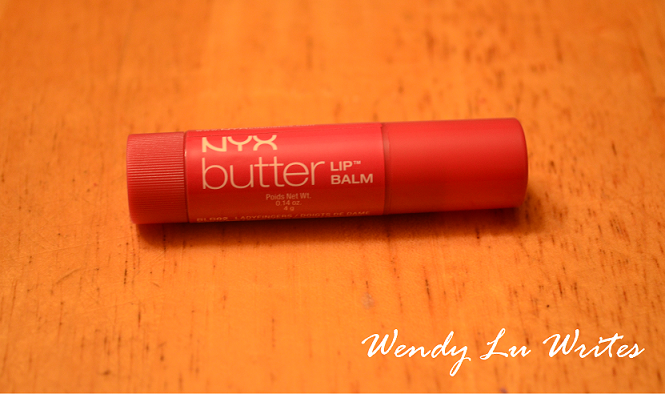 Another December favorite was this butter lip balm in the shade "Ladyfingers" from Nyx! I got it in my December Ipsy bag, and I was so excited because I'd never owned a Nyx product before. I've also heard awesome reviews about Nyx's butter lip balms and butter glosses.
If you think lip balms are super #basic, you definitely need to try this lip product. It's super hydrating and perfect for day wear because it's sheer and not crazy pigmented when you rub your lips together. I like to put a non-sticky gloss over it just to add a bit of oomph; in fact, that's what I did for my Christmas makeup look! Also, this particular Nyx butter lip balm smells amazing. It's sweet, like berries or candy, but doesn't have that "medicinal" whiff like a lot of lip balms.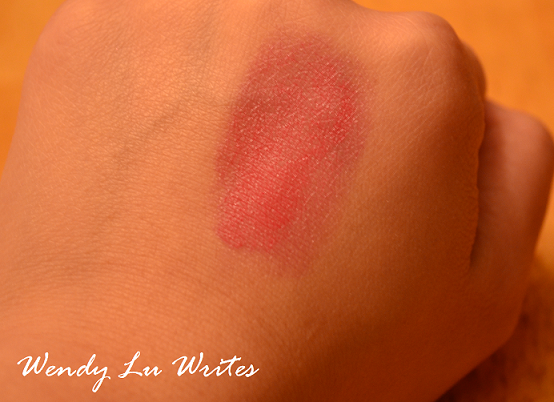 6) My Co-worker Allen's Cream Cheese Sausage Balls
Personify has another holiday tradition: Every December, each employee signs up to bring food – either homemade or store-bought – on at least one day during the month. We call these our "holiday food weeks." Everyone was so gracious in providing breakfast for the company each day. They weren't all breakfast foods, of course, but the food was always gone before the clock struck 9 a.m.
Just a few of the delicious dishes people brought include breakfast casseroles, baked macaroni and cheese, spicy corn dip, apple dumplings, Nutella-stuffed croissant rolls with a cranberry glaze, monkey bread, pigs in a blanket, a whole ham (!) and some incredible cream cheese sausage balls. (Incredible = I would be happy with eating them every day for a year if I could.)
Y'all, I have never tasted a sausage ball that can ever compare with these sausage balls. Most sausage balls I've tried end up being too meaty, too dry or too salty. The ones that my co-worker Allen brought in, though? They were juicy and cheesy, with just the right amount of spice. Perfeito.
I asked Allen for the recipe so that I could eventually test it out for "The SELF Diet" on the blog (which he kindly did). Apparently, though, the recipe is already very popular online. You can find it here.
Ingredients
1 lb. Hot or Mild Sausage (I used a mixture of Hot and Mild. Also, I would use Neese's or Bass Farm brand)
8 oz Cream Cheese, softened
1 1/4 cups of Bisquick pancake mix
4 oz. of Cheddar cheese, shredded
Instructions
1) Preheat oven to 400 degrees
2) Mix all ingredients until well combined. Best way to do this is with either a stand-alone or handheld kitchen mix using the dough hook attachment
3) Roll in your hands in about 1 inch balls
4) Bake for 20-25 minutes, or until brown
Note from Allen: "I mixed my ingredients, rolled the balls, laid them out on cooking trays, and then refrigerated them overnight before baking them all this morning so they were more fresh. You can also freeze them uncooked or after fully baking and cooling them to save for later. If you end up baking ones that you froze first, add a few extra minutes to the bake time."
7) Irony and funny, little coincidences
Did you know it was 12/13/14 the day of? I didn't until about 11 p.m. that night, when I quickly wrote a Facebook status about making wishes and reminiscing over the fact that we would never have consecutive numbers in a date ever again.
One of my friends commented on my status, "OH MY GOD. 12/13/14. All day long and I missed it. I mean. I experienced the day, I did not time travel again but I missed the cleverness."
"I would say that experiencing the day itself is most important," I wrote back, adding a smiley.
And it's true. At the end of the day, 12/13/14 was just another day like any other. Still, coincidences and subtle patterns in our daily lives make me giggle. Here a few other slap-on-the-forehead moments from December: 
A few days ago, Andrew and I were picking a restaurant to go to for our weekly date night (which is today, actually!). I mentioned my recent craving for pizza, so Andrew suggested that we go to Mellow Mushroom. When I got back home that night, I found two free $10 Mellow Mushroom gift cards in the mailbox!
I watched most of "Once Upon a Time" with my sister Hope. I kept reciting most of the lines from the television despite never having seen the show before – and I kept getting them right. Maybe this is just evidence that the show is really predictable. (It's still addicting, though.)
On Twitter, I randomly met Jordan Teicher, a writer for Slate and WIRED, on Twitter. Upon viewing his profile, I discovered he was roommates with a journalism student with whom I'd gone to UNC and attended a New York trip! A similar incident happened last summer, when I randomly met Sara Whitford, a #WritingChallenge host, on Twitter via the #amwriting hashtag and found out she's cousins with my good friend Jimmy. What a small world.

What was the highlight of your December?