#DailyWings:
"When I was a child my mother said to me, 'If you become a soldier, you'll be a general. If you become a monk, you'll be the pope.' Instead, I became a painter and wound up as Picasso." 
-Pablo Picasso
A couple weeks ago, I read 
John Green
's 
"The Fault in Our Stars,"
one of the best Young Adult novels I've read in a long time. (If you haven't done so already, I highly encourage you to read one or all of John's books and/or check out the awesome 
vlogbrothers
, a YouTube video project he coordinates with his brother Hank.) One of the book's subplots involves the characters traveling to Amsterdam to meet the writer of their favorite book in person.After I finished reading the book, I Skyped my boyfriend — who shares my passion for good literature and was the one who introduced me to John's work 
— and said to him, "Wouldn't it be so cool if we could just meet our favorite authors like Augustus and Hazel do?"

Two days later, I found out Khaled Hosseini was in Raleigh. Now, those of you who know me very well or have been following The Red Angel for a long time know how much I love Hosseini's novel, "The Kite Runner." It's publicly been one of my favorite novels for a long time (publicly, meaning when people ask, 'What's your favorite novel?' I say, "The Kite Runner.") The book is set in Afghanistan and follows the friendship between a wealthy boy and the son of his father's servant, which is changed forever by a single act of violence. It's a story of redemption and love, of friendship and forgiveness. You can read some of my old reviews of the book here and here.
Khaled Hosseini, a medical school graduate and the founder of a nonprofit that provides assistance to people living in Afghanistan, also wrote "A Thousand Splendid Suns." Hosseini's stop in Raleigh was part of the book tour for his third and most recent novel, "And The Mountains Echoed."
When I saw the event announcement on Twitter, my heart jumped into my throat as I thought about how cool it would be to meet Khaled Hosseini in person and listen to him speak. But that jump-in-the-throat reaction was followed by a sigh, and I knew there was no way I could drive to Raleigh myself.
My luck turned when a good friend of mine, who, consequentially, knew how much I loved "The Kite Runner," called and told me he and his friends were going to see Hosseini in Raleigh — and that I could come with him and his friends if I wanted. (If I wanted!) Before I knew it, I was riding in the backseat of a friend's friend's car and on my way to Quail Ridge Books. I don't remember much about the car ride, except that I had Subway and kept repeating the words, What is my life? over and over in my head. 
Before the book signing, NPR's Frank Stasio did an interview with Hosseini, touching on subjects from the writing process to character development in "And The Mountains Echoed" to the culture of and life in Afghanistan.
During Questions From the Audience Time, I plucked up the courage to stand up and ask Khaled Hosseini: "Since you started writing 'The Kite Runner' up until now, how have you changed as a writer, an educator, a person? And, if at all, how have these books — these characters you've created — changed you?" 
"And The Mountains Echoed" is much more complex than his other two books, Hosseini said. Over time, he's become more drawn toward characters who are conflicted. Instead of revealing themselves completely, the characters are mysterious and self-scrutinizing.
"What drives me to write is the drama, the human element in these stories," he said. "The motivations for the way they behave."
Before Hosseini thanked Stasio on stage for coming to interview him for the book event, he left me and the audience with this:
"Stories close the gap and reconcile between what we want life to be and how it actually is," Hosseini said. "That's what stories are for."
In other news, I turned 21 years old on June 22. I didn't go out and party all night. I didn't drink 21 shots (as the tradition demands). But I did go shopping at Southpoint, Skype my loved ones and tear open the presents that I had sworn I wouldn't peek at until the big day.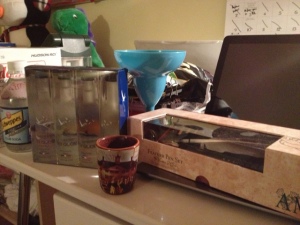 Here are just a few of my excellent birthday presents (left to right): Gray goose vodka (I'm 21, y'all!), a martini plastic "glass," my first shot glass from Mount Vernon and a feather quill set complete with an ink bottle, fountain pen and nibs (!!!). Just, wow.
I couldn't have asked for a better birthday, or a better month of June, which is ironic for me to say because of The Great Chapel Hill Flood of 2013.
Basically, my apartment got completely flooded earlier today and I was forced to evacuate to higher ground. I left the flat with only a few essential belongings, thinking that the rest would be floating in rainwater by the time I came back. But most of my stuff is completely unharmed, and while the carpet is soaked and damaged beyond repair, my home is still here. And I've still got my brain and my lungs and my heart, the three things that gotta' keep me going.
Even though there are some things that could be much worse than a flood, and also some things that could be more awesome than meeting the author of your favorite book, I can't help but think: So this is what it feels like to be the luckiest person in the world.