#DailyWings:
"This time, like all times, is a very good one, if we but know what to do with it."
-Ralph Waldo Emerson
I've started a new blog post several times (each with its own headline and Daily Wings quote), but it wasn't until multiple friends came up to me and said, "You haven't updated your blog in a while," that I realized my hiatus had to end.
Even though it's already September, my mind is still stuck somewhere in July. This summer was supposed to be a chance for me to mentally catch up with the past three years of college and figure out what the hell I'm going to do with my life. In the end, I only got busier.
Since the June 30th flood, which many Chapel Hillians are still recovering from to this day (including myself), I have completed summer school, an internship at Personify and a freelancing job with Raleigh Public Record. Thanks to the awful storm, the carpets and drywall in my apartment were all removed; for several weeks, I was forced to live in three different places, including a hotel as well as another house and flat where two of my friends were kind enough to let me stay. It's hard to believe I hopped homes for nearly a month while still managing to drive 45 minutes to and from work every day after class. Despite everything, I've made it to my final fall semester of college.

Although I'm pretty content with the way things are sailing right now, it wasn't like this at the beginning. Back in August, I was eager not to let the aftermath of the flood prevent me from living the "perfect" senior year and doing everything on the typical UNC college bucket list that I never really did as a first-year, sophomore or junior. Participate in Week of Welcome. Attend Sunset Serenade and Relighting of the Bell Tower. Take Zumba. Go rock climbing in Rams. There was something about checking off these items right here, right now as a senior that seemed sacred to me. They weren't things you could after college. I mean, you could – but it wouldn't be the same.
Due to apartment issues, I was met with great disappointment and ended up doing none of these things. I was bitter for days. I blamed the world for ruining senior year for me. The bitterness turned into resignation and an all-or-nothing attitude: If I couldn't enjoy Week of Welcome, I might as well abandon my expectations for other special moments that are supposed to make up "the senior year experience" (like Senior Bar Night and taking before graduation/after graduation photos by the Old Well).
The thing is, after I stopped worrying about missing out on stuff, life got much easier and more enjoyable. I've been able to focus on classes and things that are really important to me, like journalism. One week after school began, I was appointed to co-editor of The Durham Voice, which has been an incredibly rewarding experience for me so far. I'm also a guest columnist for DIY MFA now, and work with a passionate, talented team of writers. I've even started researching and writing my senior honors thesis, which focuses on the gap between people's online social media personas and readers' perceptions of those personas.
It's taken me three months to realize that I am doing everything I've ever wanted in college. Co-lead a major local publication. Work for one of my long-time favorite writing websites. Write a book. And last night, I emceed for the first time for CUSA's Mid-Autumn Festival. It was terrifying to think that there were more than 200 people watching me sputter out lines on stage – but when the audience burst into laughter, right on cue, I knew I was doing something right. Sounds corny, but it felt like a dream. Best of all is something I did not anticipate: I've found an amazing boyfriend who is as nerdy and awkward as me. He's always there with a joke or John Green reference and a twinkle in his eye.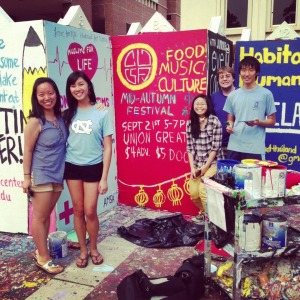 Exec board members of CUSA (Chinese Undergraduate Student Association) cheesin' after cube painting for Mid-Autumn Festival
Photo Credit: Amy Yang
All this time, I've been chasing this ridiculous list of must-dos without ever thinking about whether they're things I actually want to do – or if they're things I'm expected to do in college. Just because my bucket list is different from the norm doesn't mean it's insignificant. And some of the best things that have happened to me were totally unexpected.
Even though it seems like seniors are supposed to have everything figured out by now, I guess I'm still learning how to be flexible and open to change. I constantly have to remind myself to work hard but go at my own pace, because the truth is, the future will always be looming like some ominous inevitable. The trick is to not look ahead and remember that there is always room to grow.
So far, senior year hasn't met every expectation or standard. But it's been packed (to say the least), surprising and, above all, wonderful.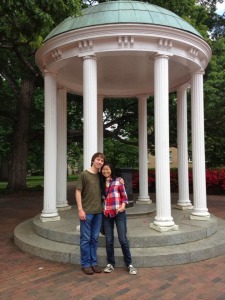 The obligatory couple photo in front of the Old Well
Photo Credit: A kind stranger