#DailyWings:
"May your coming year be filled with magic and dreams and good madness. I hope you read some fine books and kiss someone who thinks you're wonderful, and don't forget to make some art–write or draw or build or sing or live as only you can. And I hope, somewhere in the next year, you surprise yourself."
-Neil Gaiman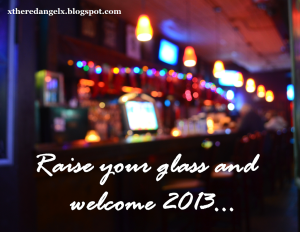 One of my main new year's resolutions from 2012 was to meditate every day for a certain amount of time either somewhere on campus or at home, and I'm excited to say that, for the most part, I succeeded. There's nothing better than lying on the grass in the campus arboretum, your vision cloaked by an entire blanket of blue sky, and letting your mind wander.
There are two ways for me to engage in meditation — one in which I try to rid my mind of all thoughts and cognition, and only allow sensations and feelings to take over the present moment. The other way is to simply not fight any of the thoughts that come to mind, but rather let them come as they "flow." Both are helpful for me when I want to re-organize my mind (as if it were a sock drawer!), and both are good for long hours of travel.

I've been able to do a good bit of thinking during my road trip to and from New Orleans. Music on full blast. Changing time zones. Writing poetry. Stealing away in my books for hours at a time. Pondering over this question: What do I want 2013 to be about?
Looking back on last year's resolutions while completing my annual review of personal achievements, I've realized these two lists don't quite parallel. Many of my accomplishments have nothing to do with my original goals, which goes to show how things can change over time. As always, here's a look at what helped define 2012 for me:
Year in Review:
Got into UNC-Chapel Hill's School of Journalism and Mass Communication
Learned to cook — mainly potatoes, vegetables and multiple variations of pasta; I still haven't gotten past the squeamishness of raw meat
Reached 200 followers, 200 blog posts and 40,000 page views (thanks to you!)
Hosted my second major blogfest and first chapter critique giveaway
Published short stories in Carolina Creates Writers and The Collegiate Scholar
Found something beautiful to be happy and appreciative about every single day
Joined Everyday Ambassador as the curriculum developer
Interned at Shanghai Children's Medical Center and led the China Perspectives on Mental Health (CPMH) project
Hosted two writing workshops for North Carolina Fellows
Became best friends with my Nikon D5100
Most of these accomplishments were as a result of hard work over time and taking chances at unexpected opportunities. For instance, I only learned to cook after stumbling upon an outstanding smartphone application,
Epicurious
in the Apple App Store. For those of you who are still crafting your goals for the new year, feel free to refer to my guide:
5 Steps to a Resolution You'll Stick With
. As for mine? Here they are: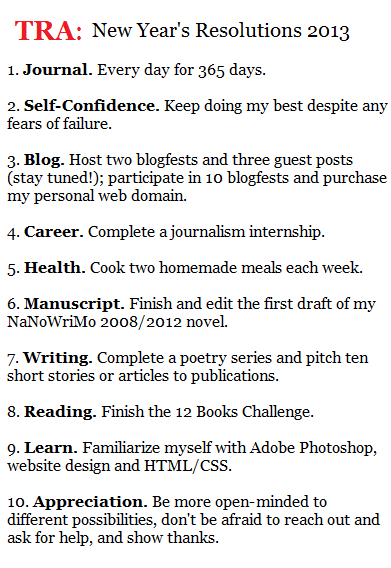 Do you make new year's resolutions? What are you most looking forward to in 2013?
~ ~ ~ ~ ~
And now it's time for Frankie Mallis's Fourth Annual No-Kiss Blogfest! Forty-two awesome bloggers have signed up to participate in this new year's tradition; it's not too late for you to join us! Also, be sure to check out the other blogfest entries. As a refresher, here's what it's all about:
"Write a scene or post one from of your favorite books, movies, TV shows, pictures or WIP that show the almost kiss — the rising, crushing, excruciating, longing, tension that comes when two characters get oh-so-close to kissing that you can just feel it, want it, NEED it….and then…they don't!"
This is my third time participating in Frankie's No-Kiss blogfest. You can find my 2011 and 2012 entries
here
and
here
, respectively. And I can think of no better way to ring in 2013 than with some heat! For today's blogfest, I took a bit more creative liberty with this piece than I usually do with most of my other blogfest entries. My fictional scene is based on two youthful characters from another short story I wrote two semesters ago. Enjoy!
Cotton Candy and Other Distractions
The first time my family went to the state fair, I was seven and barely tall enough to ride the Jump Star kiddie carousel. My mom had always accompanied me to these kinds of things. She would hold my hand as I mounted the painted horse, one foot hanging over either side of the animal figure.
Now I'm fifteen and I'm at the state fair with a boy I hardly know. His name's Benjamin Watkins, but everyone at school calls him Benny. Before, I never even talked to him — only saw him running the track during gym. We found out we were into each other two weeks ago when he winked at me and slipped me a note in my locker, middle-school style. It's not official or anything, but now the whole school knows.
My older sister Myra has told me about boys before, just like she tells me about everything else. She calls them greasy slime balls and says I better take care of my fragile heart, but what does she know?
Benny's not the same, I think. So far, I've learned he's really into rock music, and in my book passion is always something to appreciate. He's nice, not like the assholes at school who make fun of my red hair and freckles. And there's something about the way he flips his hair and smiles all wide like he's happy to see me.
Pink strands of candy floss twist around my tongue. It's been ages since I've had cotton candy, and I don't remember it tasting this sweet. I'm thinking about how Myra had mentioned that it's important not to bare my teeth when Benny suddenly says, "Like it?"
We're on a small hill, overlooking the fairgrounds. A thousand bright bulbs light up the entire exhibition, with colorful balloons bobbing up and down every few yards. It's peaceful where we rest, side by side, clutching our cotton candy and stuffed prizes.
Benny's sitting in the grass next to me and wearing a dark blue Guns N' Roses T-shirt that Mom wouldn't approve of, but oh, he's gorgeous. Brown hair brown eyes brown everything — like chocolate. I wonder how I'd been so lucky.
"Oh yes. Strawberry's my favorite flavor," I say, grinning, and then quickly close my mouth. In my head, Myra's clucking her tongue and talking about how there's nothing less attractive than pink teeth. First date problems. "Thanks for getting the cotton candy for me."
"'Course," Benny says. He shifts his position so that he's facing me. "I'm glad we got to do this."
All of a sudden, he sounds a little nervous. This puzzles me. Benny's the confident and cool one. He's the class clown who thinks up of new ways to harass Ms. Teeter, the math teacher everyone hates. He's the guy whom everyone wants on their dodgeball team. He's the first guy I've ever really liked, but right now he's nervous and I'm thinking maybe he can tell that I'm new to this.
Benny Watkins flips his hair like he's from One Direction and then, before I know it, his hand is on mine. I'm frozen and useless, not unlike the ice cream cone a small boy about ten yards away just dropped on the floor. Did he just take my hand? Yes he did, I think, and oh my gosh I don't know what to do —
"I really like you," he says.
I turn my head, and realize his face is inches from mine. His eyes are getting smaller and smaller; he's closing them. A little voice inside me screams, The kiss! He wants to kiss you! But I'm new to this, so it's hard to know which way to turn my head — left or right? My stomach is filled with squirming sensations that won't go away. I'm scared my nose is too big, but Benny's lips are coming and there's no time for fear. My other hand grips the paper cone, sticky from sweat and cotton candy.
Just as Benny's lips part and pucker, I breathe and suck in as much as air as possible, not sure how long kisses are supposed to last. Suddenly, something gets caught in my nose. It tickles, and I can feel another sensation developing quickly, the kind you're not supposed to get when you're about to be kissed. My nose gives way.
"A-CHOO!"
Leftover cotton candy sugar stings the back of my throat. It takes me a moment to recover, and when I open my eyes there's Benny Watkins, looking startled and one hand in front of him like a shield.
I mumble a meek "sorry," my cheeks burning, as he passes me a napkin. He assures me that "it's fine," but any prospects of intimacy are gone now and I'm left wondering how could a sneeze have ruined the perfect moment for me.