#DailyWings: "There are too many books I haven't read, too many places I haven't seen, too many memories I haven't kept long enough." -Irwin Shaw
Blogging From A to Z is an annual month-long challenge in which bloggers around the world are invited to write a blog post every week day for the month of April, with each day corresponding to a letter in the alphabet (26 week days = 26 letters). For this year's A to Z challenge, my theme is personal anecdotes, or "childhood memories."
In my last blog post, "E is for Eyes," I mentioned that my sub-par vision as a kid was due to my tendency to stay up late and read books under the covers. Those adventures I embarked on with characters like Harry and Ron, Meg and Calvin and the worlds I discovered with them were sooo worth getting glasses (and even worth getting caught once in a while!). You know I just had to dedicate an "April A to Z" post to all of the books I loved to read as a child and made me fall in love for reading, writing and everything related to words.

As I think about the books world today, with all of the digital tools and new media that have been incorporated into the reader's experience, it's hard to believe that much of Generation Z probably didn't or won't grow up with books like "Maniac Magee," "Are You There, God? It's Me, Margaret" and "The Mouse and the Motorcycle." Instead, they've got "The Diary of a Wimpy Kid" series and "Miss Peregrine's Home For Peculiar Children" – both of which are awesome, by the way, just not what I grew up with.
Today, I bring you a list of some of my favorite literature that produce lots of nostalgia for my childhood. (Because I've listed "The Kite Runner" by Khaled Hosseini, "My Sister's Keeper" by Jodi Picoult, "Little Women" by Louisa May Alcott and "A Wrinkle in Time" as my lifelong favorites a thousand times, I won't mention them in this post. But you know I love them.)
These are books that taught me about friendship, love and magic. They're books that were my best friends, that made me believe that I can do anything even at a single-digit age. They're books that made me grow up to be a nerdy fangirl – the one who spends almost as much time shipping fiction couples (as far as I'm concerned, Jo and Laurie were meant to be) as she does putting effort into her own relationships. They're oldies but goodies.
1. "Ramona Quimby, Age 8" by Beverly Cleary
Such a classic. Everyone loves Ramona Quimby – she's spunky, relatable and downright smart for her age. I still remember specific details and scenes from this book that I would read over and over again, like the chapter where Ramona and her sister Beezus cook dinner for their parents, or the gut-wrenching boiled egg fiasco (I totally felt for Ramona then).
In a way, this book and all the other Ramona stories remind me of Disney movies in that there is so much more to the story than meets the young eye. We're there with Ramona as she goes through some of the most vulnerable stages of her life – how her family struggles with poverty and unemployment, how she's embarrassed in front of the entire school, how the relationship dynamics with her sister and her teacher change over time and more.
2. The Baby-Sitters Club series by Ann M. Martin
I remember loving this series so much (even more than the "Boxcar Children" series, which is saying something) that I tried to write a similar series about a group of friends, outlining book titles and summaries in the same writing style the way young writers do when they learn about the craft by mimicking their role models.
"The Babysitter's Club" series taught me the most about characterization than almost any other book I read as a child. My favorite babysitter from the series was Stacey McGill because she lived with diabetes and struggled with telling her friends, maintaining a strict diet and trying to seem "normal" in school. Even though my health problems aren't related to diabetes at all, I knew what it felt like to be alienated and misunderstood by friends and teachers who just didn't "get" it. Stacey reminded me often that it's okay to be different, and that a disability or illness doesn't have to define you.
3. "Behind the Attic Wall" by Sylvia Cassedy
Pretty much nobody I've mentioned this book to has ever heard of it before. I'm surprised, because "Behind the Attic Wall" deserves so much more attention and praise that it does. In fact, besides "A Wrinkle in Time," this book might top all the others as my favorite children's novel of all time.
It's difficult to pinpoint what genre or category this book actually falls under, but those tend to be some of my favorite (think: "The Lovely Bones" by Alice Sebold"). "Behind the Attic Wall" is coming-of-age, as a young girl named Maggie learns how to open herself up and finds a family in the most unlikely of places, but you wouldn't call it young adult. There are talking China dolls (that may or may not even be real), but it's not completely fantasy or magical realism. There's mystery, fictional history and a hint of paranormal, even. I just love this book, and always have. I hope I've puzzled you enough so that you'll seek it out.
4. The Harry Potter series by J.K. Rowling
Fun fact: One of my most prized possessions is Fleur Delacour's wand, which I bought at Ollivander's in Harry Potter World (unrealistic, because Fleur's wand is sophisticated and special and wouldn't just be lying around waiting to bought in Diagon Alley hello).
Another fun fact: My favorite Harry Potter books are, in order, "Harry Potter and the Prisoner of Azkaban," "Harry Potter and the Order of the Phoenix" and "Harry Potter and the Goblet of Fire."
Final fun fact (for now): I fantasized about auditioning for the role of Cho Chang after a magazine reported that there was a casting call to find the perfect actress to play Harry's love interest in "Harry Potter and the Goblet of Fire."
I could go on and on (and on) about Harry Potter, but I'll keep this short and sweet (or try to, at least. Update: I failed.) My first memory of ever reading "Harry Potter" is of sitting on a chair in the library at Edward Devotion Primary School – not at a table or in some designated reading area, but by the actual book shelves. I also distinctly remember carrying one of the "Harry Potter" books back up to its original book shelf after I'd finished reading it.
Another fond memory I have is June 21, 2003 – the day before my birthday, when "Harry Potter and the Order of the Phoenix" was published and everyone flocked to Barnes & Noble like seagulls, including two of my friends who each bought me a copy of the book for my birthday. I was pleased, because there's no such thing as "too much Harry Potter."
Like so many other '90s kids, I grew up with Harry Potter and will always be a fangirl. It doesn't matter that the movies are all out and J.K. finished writing the series long ago. I still enjoy the books, go to Harry Potter World, visit Pottermore online and read HP fanfiction all the time. My love for that series and those characters will never, ever die.
(Btdubs, I ship Draco/Ginny.)
5. "Tales of a Fourth Grade Nothing" (and basically everything by Judy Blume)
Most of the books I received in elementary school were from a school mailing service that encouraged accelerated reading by allowing parents to order book packages for their kids. I loved looking through through the catalog and checking off which books I wanted to order. I should thank my mom for allowing me to order so many books from that mailing service. Thanks, Mom! :D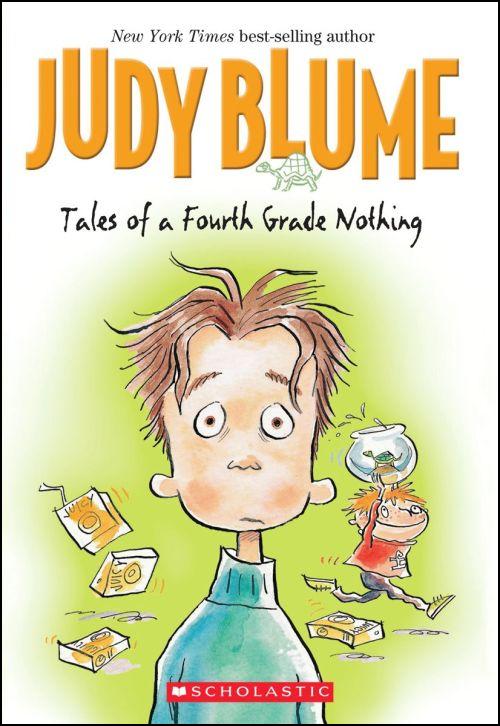 I don't know if this book mailing program was headed by Scholastic or some other publishing giant, but nothing made me more excited than to have my package of three or six books wrapped in plastic dumped on my desk at the end of the school day. This is how I came upon "Tales of a Fourth Grade Nothing" in – you guessed it – fourth grade.
It came in a package of books that were tailored specifically toward fourth graders; the other two books were "Fourth Grade Rats" and "Fourth Grade Weirdo" (both were very good). Apart from wanting to get some new books, "Tales of a Fourth Grade Nothing" was also a book assignment that we were required to read together in class. I still remember my English teacher, Mrs. Grimes, reading in the voices of Peter Hatcher and Fudge.
Anyone with siblings or younger cousins can relate to this book. Anyone who loves a good laugh will appreciate Judy Blume's wit and remarkable storytelling. Anyone who has ever had a family argument or taken care of a young kid will feel for Peter's frustration with his attention-seeking younger brother, Fudge. However, if you have a beloved pet turtle, erm, you may not (read it and you'll see why).

What books influenced you the most as a child? What was the first book that made you cry? (Mine was "A Wrinkle in Time," to nobody's surprise.) Big thanks to Sharon Gibbs for requesting me to blog about my favorite books growing up!