#DailyWings: "Things never go the way you expect them to. That's both the joy and frustration in life. I'm finding as I get older that I don't mind, though. It's the surprises that tickle me the most, the things you don't see coming."
-Michael Stuhlbarg
Blogging From A to Z is an annual month-long challenge in which bloggers around the world are invited to write a blog post every week day for the month of April, with each day corresponding to a letter in the alphabet (26 week days = 26 letters). For this year's A to Z challenge, my theme is personal anecdotes, or "childhood memories."
The great thing about having a big sister when you're really young is that you get to meet all of her popular, older friends – and because you've got the squishy cheeks, the kiddie dimples and a habit of trying to copy what they do, they love you. (It's also pretty awesome when your big sister doesn't mind you getting all of this attention.)
It was the year 2000. I was seven years old when I attended my sister's friend's bat mitzvah. It was hosted at some party venue in Boston, and I can still remember looking down from the second floor and seeing all of the boys and girls on the dance floor. There must have been a disco ball, because the whole room was shrouded in colorful party lights – purples and blues and pinks.

On the second floor, Sophie – one of Hope's close friends, but not the birthday girl – brought me to the ice cream buffet line and helped me put together my own bowl of ice cream. As we went down the line, she asked me what flavor of ice cream I wanted, what toppings she should add and whether I wanted a drizzle of chocolate sauce. Since my mother wasn't too keen on us eating sweets at home, this was heaven.
When Sophie asked me if I wanted whipped cream on top, I hesitated and then shook my head.
"Are you sure you don't want some whipped cream?" she said, looking incredulously at the seven-year-old kid who had just turned down a cloud of cream and sugar.
I nodded twice. In my mind, whipped cream was that weird wannabe frosting basically made out of air.
"Okay." She handed me a napkin, my bowl of ice cream and a spoon. I like to think that I said thank you, but that's not in my memory. I believe I just looked up at her and gave her a grateful smile before running off to enjoy my treat.
Later during the evening, the host of the event – someone employed by the venue – came out with a microphone to give an introduction and rouse the crowd. He walked into the middle of the dance floor, thanked everyone for coming out and congratulated the birthday girl (or at least that's what I imagine he must've done). He also started giving away prizes.
I don't remember how many people won giveaways that night, but at some point the host approached me while I was dancing and asked me my name. He lowered the microphone so it was right underneath my chin.
"Wendy." I heard my name reverberate across the room, and everyone turned their heads to look at whoever that small voice belonged to.
Next thing I know, the host placed in my hands a brand-new Elton John CD album: "The Road to El Dorado," featuring "Someday Out of The Blue." That album was released just months before our family moved to North Carolina. That's how I know it was the year 2000 and that I was seven years old.
The spotlight fell on me when I received the CD, and everyone on the dance floor clapped. I might've even heard my name a couple times from my sister's friends. I was elated. What a pleasant surprise to have received this gift out of the blue (no pun intended), and I wasn't even the birthday girl!
Maybe it was how unexpected the giveaway was, or maybe it was the way everyone showered me with whoops and pats on the back, but since then, I've loved surprises. I love putting together the "perfect" birthday gifts, planning secret bashes for other people and pranking them, too. (It's also fun to be on the receiving end, of course.) I love the bewildered look on people's faces when they've been pranked or surprised right under their noses. In fact, a few days ago for April Fool's, I offered my partner Andrew a delicious-looking cupcake that happened to have mayonnaise on top instead of frosting. I'd even added a few sprinkles! Priceless.
To indulge my love for giveaways and because one of my blogging goals was to host one before the end of spring, I'm launching my Spring 2015 Chapter Critique Giveaway today!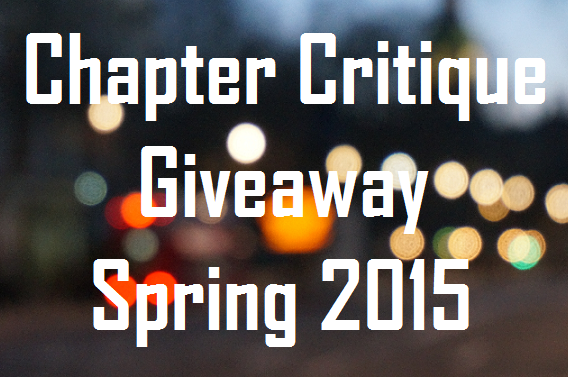 Here are the rules and the nitty gritty details you need to know: 
The Winners: There are two possible winners – each winner will receive an in-depth chapter critique of up to 10 pages (words must be typed in 12 point font). Your 10 pages don't necessarily have to be a part of a novel – they can be 10 pages of poetry, an academic paper, short stories, etc. Since I can only read English, your writing must be in English.
The Chapter Critiques: Chapter critiques will include copy editing for grammar/syntax and spelling; suggestions for improvement; in-depth review of continuity, character development, pacing, flow, etc.
How to Enter: The ONLY mandatory thing you must do to be eligible for the giveaway is leave a comment under this blog post with your fondest childhood memory before the deadline: April 30!
You may also get extra entries by doing various other activities such as following me on Twitter and Instagram, tweeting about the giveaway (you can do this once per day), etc. This giveaway is being run via Rafflecopter, which will keep track of your entries. The more entries you have, the more times your name gets tossed into the bucket, so to speak, and the more likely it is that you'll get picked!
Both winners will be chosen RANDOMLY via Rafflecopter's magical random generator on April 30, the last day of A to Z, and will be announced on May 1. I will reach out to the winners via email (wendyluwrites@gmail.com) or Twitter (@wendyluwrites) before the end of May 1 with details about the chapter critiques.
Rafflecopter: You MUST use the Rafflecopter form below to ensure your entries get counted. Click "Leave a blog post comment" and, once you've left a comment down below, click "I commented!" From there, you'll be able to gain bonus entries by following me on social media, etc. Let me know if you have any questions!
Finally, anyone may participate in this giveaway, not just April A to Z participants. This giveaway is open to the world! Enjoy!