Question of the Day: If today was your last day on Earth, how would you spend it?
Day 07: A picture of something that has the biggest impact on you.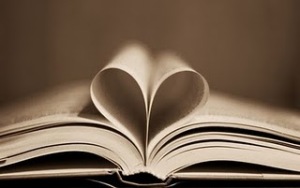 Because of books, I have discovered my love for writing. Because of books, I am able to escape the real world and discover the millions of best friends that I have found within the characters of Jo March, Huckleberry Finn, Anna Fitzgerald, and so many more. Because of books, I know what is to become of me and what I want to do with my life.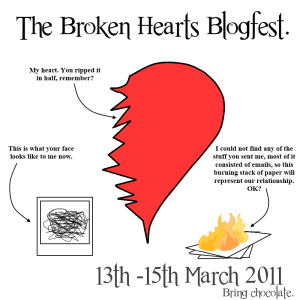 Today is The Broken Hearts Blogfest day!
This blogfest is hosted by Dawn Embers at It's In the Book. The idea is pretty straightforward… an entry with the theme of broken hearts. It's not too late to sign up–the whole thing lasts from today 'til Tuesday!
I decided to share with you an excerpt from my novel,
Sophie
. It may be a bit over 1,000 words but much of it is dialogue. I have slightly altered it for you to better understand the context. Please enjoy!
~ ~ ~
"So, what is it you want to talk about?" Excitement was whirring inside of me like pressure of gas inside a car that was getting ready to accelerate forward. This was it. It had to be.
"How have the last couple of years been for you, Sophie?" Paul finally asked. He's making sure that my time with him has really meant something to me before he asks The Question, I thought to myself. The car within me roared to life.
"These years have been really great, Paul," I said as softly and gently as I could, even though I was exploding on the inside. "Really. The time I've had with you has been spectacular. I'm so glad to have you in my life, I really am."
Paul laughed, but his laugh sounded off. Like it had been forced out.
"I'm glad to hear that." He shifted his position on the picnic towel. "I've enjoyed them too."
Seconds ticked by, and the stillness drifted between us like a blanket of white fog.
"Remember when you met my parents last Christmas?" Paul asked. How strange…it wasn't like him to change the subject. He had always been so straightforward, to the point.
"Yes," I said automatically. "It was awesome…I was so excited when your mom hugged me after dinner…I remember being so worried that they wouldn't like me." I giggled at the memory.
"Listen—Sophie…" Paul began, and then stopped. He looked at me blankly. "I'd like to…to…suggest something," he said slowly, carefully.
"You think we should get married?" The words tumbled out.
I had no idea what made me say it; one minute I was waiting excitedly and anxiously for Paul to just come out and say it, and in the next moment I had said it myself.
The longest, quietest silence I had ever encountered drifted between us. I could hear the rustling of leaves on our maple tree as the wind began to pick up. Out of the corner of my eye, the ants on our picnic towel were taking advantage of the peace to intrude our picnic and retrieve the remains of banana peel and sandwich crumbs that lay neglected on the cloth.
"I don't think that's a very good idea, Sophie," Paul said quietly.
The elation I had felt just moments before disappeared, and the impelling car inside of me screeched to a halt.
"You what?" My voice was barely audible; I wasn't even sure I had said anything.
"Sophie…I don't think it's a good idea if we get married," Paul said again, this time a little louder. Every word punctured a little more of me until I was as feeble and helpless as a dummy.
"Why?" Suddenly, I had a desire to laugh. Maybe Paul was frightened and wanted to back out because he thought I wouldn't want to be with him because of his job and hectic schedule.
"I mean, you know I love you and I'm pretty sure you love me too. It doesn't matter to me what your job is as long as you're happy. Any difficulties you and I encounter, we can overcome them. And—" My last few words failed me as I looked into Paul's face and realized it was no good. Realization dawned on me, but I refused to comprehend with it.
"Are you breaking up with me?" I whispered, not understanding the words I spoke. It was like trying to speak another language.
"You matter to me, Sophie," Paul tried to explain. "You really do. But Mother and Father need me to be with a woman who is willing to go into the same field as me, so we can work together."
"But—but you said your mom and dad loved me when…when I first met them. You told me before that they think my job is 'lovely' and—and whatever I did should make me happy, regardless of what it is."
"Things change."
"Is this because we never get to have time on our own?" I asked Paul. "Because if it is, we can work things out, we can rearrange our schedules so we'll have enough time to—to be together …"
"You know, it's kind of hard to be a surgeon and rearrange patients' schedules according to my own," Paul said. Was it my imagination, or was there an edge of ice in Paul's voice?
"But—but Paul…" I fought back tears that were fighting to escape from my dignity. "I—I'm willing to do anything for you. I want to be with you."
"Are you willing to give up your job as a teacher, go back to school and get a medical degree?" Paul was looking at me intensely. His electrical blue eyes felt like lightning blinding my gray ones. It hurt.
I didn't understand why Paul was asking me of this; he knew how much I loved to teach, how much it meant to me every time a child's look of understanding burst its way through after I'd explained a mathematical term or the spelling of a word, when moments before there stood a look of blank incomprehension.
"You…you know I can't do that," I said, hardly surprised to find my voice shaking tremendously. "This is my very first year of teaching. I've waited six years to be where I am now. I've just started my dream and you know that…"
"In which you should know that since you're just starting and you're not completely delved into a real teaching career yet, you have time to leave and back out now."
"You…you want me to give up what I love to do, just so…" I felt incredulous.
"Just so we can be together," Paul finished.
"You said you loved me," I argued.
"You said you were willing to do anything," Paul reminded me. "You said you wanted to be with me."
"But I do!" I said loudly. "I do want to be with you! But…every time I imagine us married, living our lives together…it involved us being happy and both of us doing what we want to do."
"What my parents want is for me to live my life with someone whom I can be partners with, career-wise," Paul said. "They don't think teaching is a good enough job to keep food on the table and tuition money for my kids' future college experiences."
"You're leaving me because I don't meet your parents' requirements?" I asked, disbelieving.
Paul considered. "Yeah. Something like that."
The rain was finally coming. Big, heavy drops of rainwater poured over us; the tree we were sitting under was no longer a wonderful protection, no match against the force of the angry clouds above us.
I bowed my head, hair covering my face in shame. I realized then that the tears I'd been fighting back had won the battle. Salty wetness trickled down my cheeks and was now pouring down my face like a waterfall. I was sobbing. But then, another feeling began to overshadow the repentance. I slowly looked up, trembling with fury.
"You're a coward," I told Paul. Clouds were progressing even faster, and the rain got heavier. "You're a grown man, and even now you can't do what you want without having to listen to your parents. This is your life and you need to live it the way you want."
Paul gazed at me with his blank stare. Before I knew it, he had stood up and was now walking away from our picnic.
"You're a coward!" I screamed at Paul. The back of his white shirt was soaked and his skin was visible against the material. The nostalgia of his strong, secure body against mine, a feeling that seemed to have been felt a long, long time ago, made me angrier and sadder with every second that flew by.
"Fine, leave me!" I yelled, as the other, the better, the much greater half of me continued to walk away from my life, step by step. "You're a coward! You won't even be with me because of my job! You're a coward, Paul Reynor!"
You're a coward…you're a coward…you're a coward…