#DailyWings: "Life is full of beauty. Notice it. Notice the bumble bee, the small child, and the smiling faces. Smell the rain, and feel the wind. Live your life to the fullest potential, and fight for your dreams." -Ashley Smith
Y'all. Do *not* sign up for marketing email newsletters like Sephora and e.l.f. during the holidays, because they will suck you in with amazing deals on makeup and you will never be able to get out!
…All that being said, I absolutely a all of my recent purchases from e.l.f. If you don't know what e.l.f. is, it's an online makeup brand that stands for eyes. lips. face. and sells high-quality beauty products for drugstore prices. (No, really. You'll see what I mean.) Besides the occasional splurge, I usually reserve my high-end makeup money for skincare items and BB/CC creams since I want those products to really help improve my skin and combat acne. If you're looking for a respectable makeup brand with consistently great reviews but you don't want to risk spending a lot of money on a product you're not sure you will like, shop at e.l.f. Most people love e.l.f.'s makeup, but even if you don't, you're not wasting that much.
Recently, e.l.f. has had a ton of sales on their website (just FYI, you can find their products in select stores as well). Some products have been on sale for 50% off, and they've also given out makeup freebies that you get with your online purchase. I got everything in my e.l.f. haul for 50% off the original price, and if you buy enough products you can get free shipping as well. I have a feeling e.l.f. is going to continue their amazing deals all through Christmas, so hustle ;)

1. Studio Large Brush Holder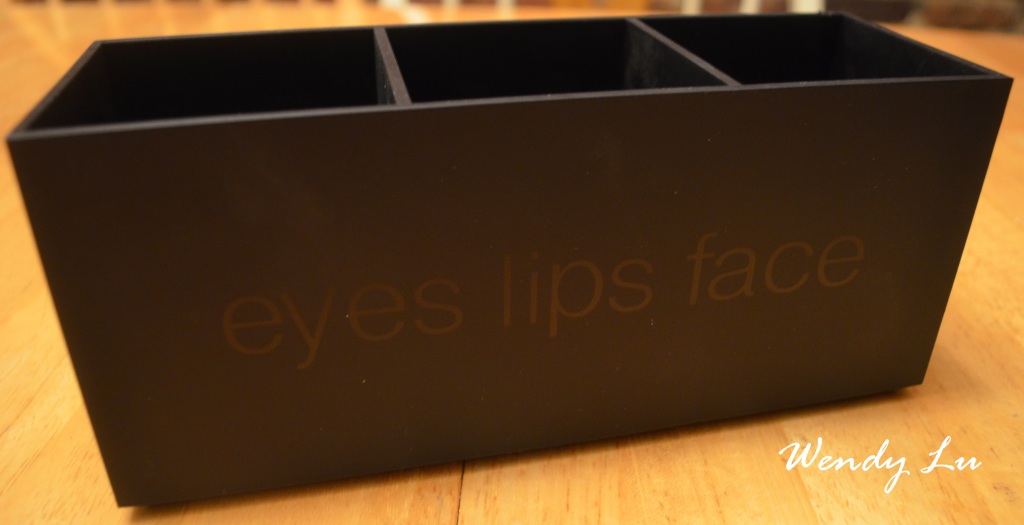 I've recently acquired a lot of makeup over the past several months, and my organization has been nonexistent – until now. This brush holder normally sells for $15, but since I got everything 50% off, the price was marked down to $7.50. Not bad! The quality of this organizer is on point – it's sturdy and large enough to hold an array of products, not just makeup brushes. The exterior, where "eyes lips face" is printed, feels velvety and luxurious (hard to explain; you need to feel it for yourself!). This is how I use the brush holder to organize some of my makeup now:
Left Compartment: Lip pencils, lipsticks, lip glosses, lip balms and lip crayons
Middle Compartment: Mascaras, eye pencils, eyeliners and small palettes
Right Compartment: Brushes, eyelash curler and other makeup tools
I keep all of my other products that are either too short or too wide for the brush holder (e.g. eyeshadow singles, concealers, body butter) in a wooden jewelry chest on top of my bedroom cabinet.
2. Studio Matte Lip Color, Praline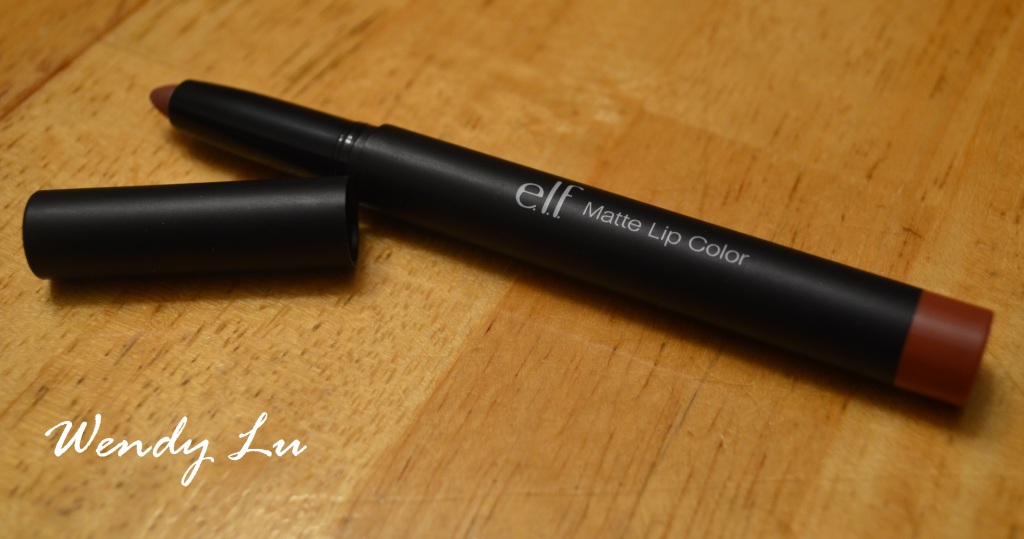 I was so pleasantly surprised by the creamy formula of e.l.f.'s Matte Lip Color. It glides on easily and feels incredibly smooth. e.l.f. states their Lip Colors are designed to combine the "convenience of a pencil with the application of a lipstick," and I couldn't agree more. I'm excited to own this product, but also a little nervous because this is my first matte lip product ever. The shade I have is "Praline," which has hints of dusty rose and nude. I'm hoping the Matte Lip Color will create a nice "everyday lip look."
Here's a swatch:
3. Essential Shimmer Eyeliner Pencil, Twinkle Teal and Plum Passion

Okay, I have heard a lot of mixed reviews about these eyeliners but I don't understand how people can complain about the pigmentation or say that the pencil tugs on their waterline. Granted, I have yet to draw on my eyes with these (hopefully my mind won't change when I do). But the formula is so creamy and just look at the colors:
If you think you spot flecks of silver in "Plum Passion," you're seeing correctly. I am in love with "Twinkle Teal" and cannot wait to wear this on my eyes with some eye-popping mascara and a bit of highlighter (keep reading to find out what highlighter I'm using these days!). I can't believe I only got these for 50 cents. #makeupsteal
4. Studio Eye Primer & Liner Sealer
This product has puzzled many makeup fans in the past. If I hadn't heard Jessica (or JAMbeauty89 on YouTube) talk about it in one of her videos, I wouldn't have given this a second glance. But when you think about it, this is a super productive two-in-one product. You've got eye primer on one side and a "liner sealer" on the other. This is perfect for travel because it means you don't have to bring an additional liquid eyeliner – just toss in your mascara, dip the liner sealer in it and you're good to go! Pretty genius, I have to say. *snaps for e.l.f.*
I already have e.l.f.'s Essential Concealer Brush from their $1 line and their Studio Eyeshadow "C" Brush, but I didn't own any face brushes meant for contouring or blending foundation/blush until I got this. e.l.f.'s studio brushes – and studio line in general – feel like they're made of really high-quality material, and they have yet to shed on me. I'm still trying to get comfortable with using makeup brushes instead of my fingers. I have this worry that all of the product, whatever it may be, just stays on the brush and doesn't transfer properly. Any tips on using makeup brushes?
6. Studio Baked Blush, Passion Pink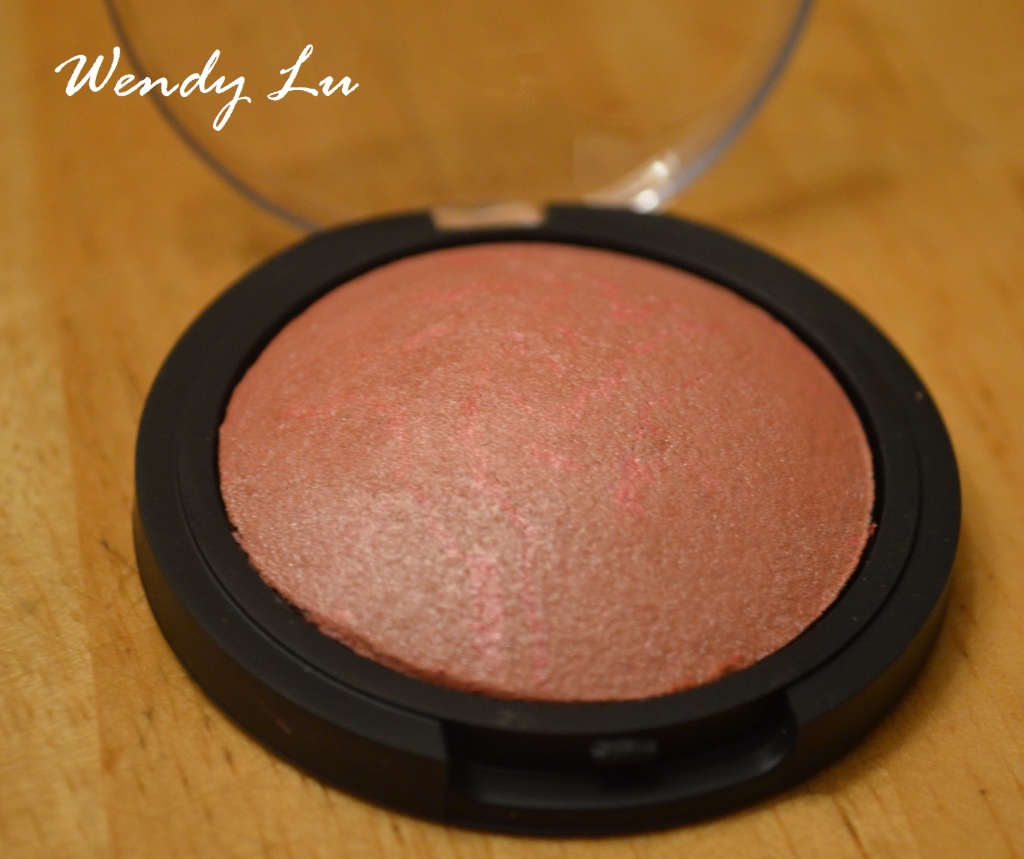 The last time I wore blush, I was about seven years old. Yup, my mom dolled me up when I was younger and put me in all sorts of frilly dresses. I wore more makeup as a kid than I ever have as an adult! I'm trying to catch up, though. I think one of the reasons I grew up not really caring about makeup is the fact that my mom was the one who always put it on my face, and I hate it when people touch my face (excluding, like, Andrew).
Anyway. Passion Pink. It's got some peachy undertones and has a bit of shimmer, but it's really beautiful and blends easily. I applied this blush on the side of my arm that's a bit fairer; I'm really hoping the blush isn't too light for my face. Gotta look up some tutorials on applying blush! (Another makeup fear: Looking like a complete clown.)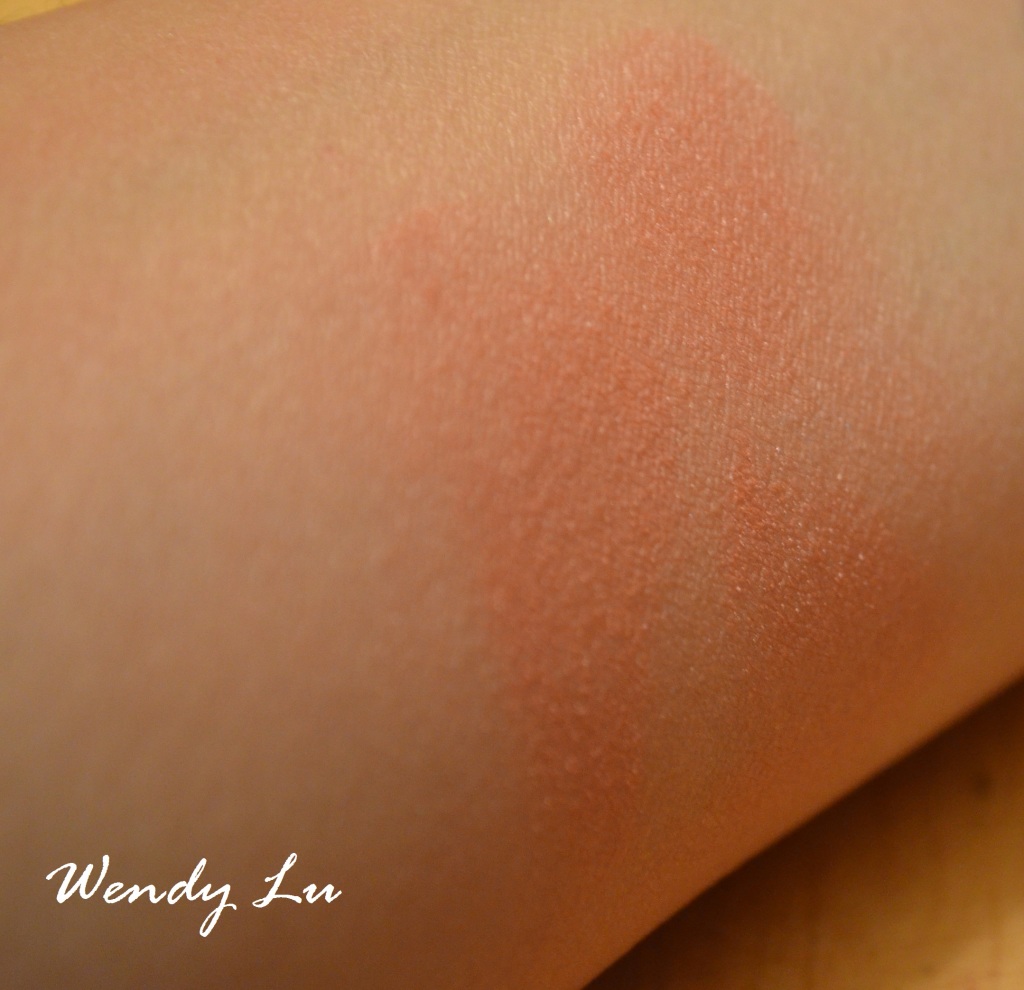 7. Studio Baked Bronzer, Los Cabos
I had so much trouble with this bronzer. Ugh. e.l.f. actually had to send me a replacement because my first one arrived shattered and bronzer was all over the package. Unfortunately, this second one also came broken – you may be able to tell from the photo above that the top part is in tact, but it broke loose and is now separate from the bottom half. An upgrade from the first bronzer, but still. *sigh* I won't be requesting a third replacement, obviously.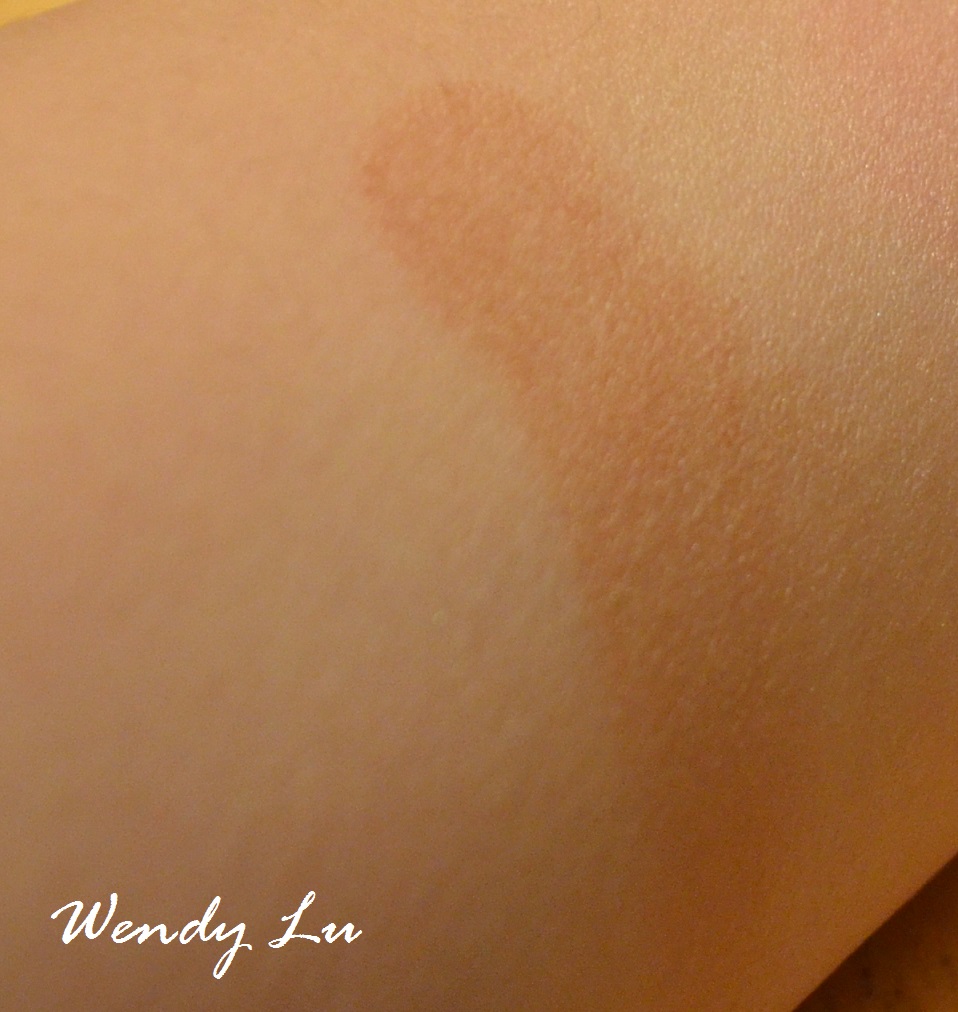 Again, I'm really hoping this bronzer will show up on my cheeks. I think it will. Even if it's a bit light, the bronzer is buildable (which is always nice). "Los Cabos" is a light brown matte shade, perfect for light-to-medium skin tones. As a reference, "Los Cabos" is what KathleenLights uses on her cheeks.
8. Studio Prism Palette, Smoke
If you enjoy foiled eyeshadows that are metallic and highly pigmented, you will love e.l.f.'s Prism Palettes. Their other two sets include "Sunset" (red tones) and "Naked" (your essential nudes and neutrals). I am in love. These feel super creamy when you do a swatch (see below), but they dust on your eyes like powder. These retail for $10 on the e.l.f. website, which is incredibly cheap considering other eyeshadow palettes like Urban Decay's "Naked" palettes. Definitely a must-have if you put together a lot of super intense eyeshadow looks.
Aaaand that's the end of my winter makeup haul! I hope you enjoyed this; especially if you haven't heard of e.l.f. before now, I hope this gives you some insight into the brand and the types of products they carry. If you want to see more makeup on this blog, don't worry – I'm still waiting on my Ipsy bag ;)

Have you ever shopped at e.l.f.? What e.l.f. products do you own and love? (I'm always on the lookout for recommendations!) What holiday looks are you going for this winter season? Also, comment down below and let me know if you want me to do a more in-depth review of some of these products, or even a "Best of e.l.f." blog post in the future!