Question of the Day: If you could switch lives with one big star of the modern world, who would it be and why?
I usually do not write about fashion, but the ladies and gentlemen really Wow'ed me when I watched the 82nd Annual Oscars Academy Awards of 2010. There were definitely a few that I thought were completely hideous, but as I am a relatively optimistic and happy-go-lucky person, I would like to share only the attire that I did think were absolutely magnificent.
First, for all of you who were not able to watch this year's show, here are the 82nd Annual Oscar Awards for 2010:
Best Picture: "The Hurt Locker"
Best Director: Kathryn Bigelow – "The Hurt Locker"
Best Actor: Jeff Bridges – "Crazy Heart"
Best Actress: Sandra Bullock – "The Blind Side"
Best Supporting Actor: Christoph Waltz – "Inglorious Basterds"
Best Supporting Actress: Mo'Nique – "Precious
Best Original Screenplay: "The Hurt Locker"
Best Adapted Screenplay: "Precious"
Best Animated Feature: "Up"
(Source: Yahoo)
Here are my top favorite gowns and tuxedos adorning Hollywood's greatest stars!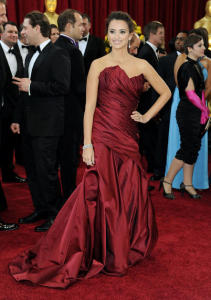 #1: Penelope Cruz: Her gown is absolutely gorgeous and definitely made my eyes pop and my mouth utter "WOW!" I really love the scarlet, as it goes well with Cruz's perfect skin tone. The sweep of the dress skirt has a sexy flair to it as well. Cruz definitely wore this dress well, with a confident pose and just the right amount of matching jewelry. This is definitely my favorite outfit out of all the Oscar attendees. It is simple yet stunning. Why can't we all look as good as Penelope Cruz in this guise?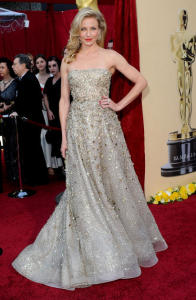 #2: Cameron Diaz: Cam has always definitely my favorite "Charlie's Angel." Here, she looks even more like an angel, though not the kickass one we all love! Her gown is so very glamorous and somehow reminds me of royalty.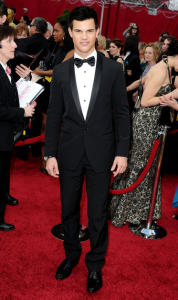 #3: Taylor Lautner: Nay, I did not choose Lautner because he is "the hottest thing around," according to Yahoo, though that is a nice factor. :] I like his outfit because, unlike the other male actors, Lautner's tuxedo is sharp and simple but not too plain.
That cute bow is a great add-on and looks a lot nicer and lighter than those dull black ties. The buttons complete the outfit to give it some sort of pattern without looking too tacky like Robert Downey Jr. This is really the one tuxedo that I thought looked really nice, and thus Lautner is my tuxedo winner!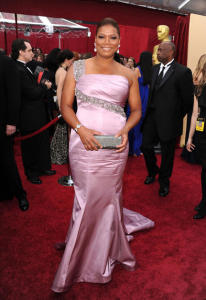 #4: Queen Latifah: Okay, so every time I see Ms. Latifah, I can't help but think of royalty. She reminds me of exactly what her name indicates: a queen. In this figure-hugging garment, her name suits her even more. I absolutely love the sparkly one-shoulder strap and diagonal waist sash. The bodice hugs her upper and middle torso, while the waves flow around her and emphasize the curvy shape. Latifah wears this gown proudly with an award-winning smile and has a matching clutch to complement her outfit.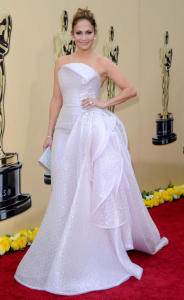 #5: Jennifer Lopez: Although J.Lo was first famous for being a music star, throughout the years it has been clear that she is a multi-tasker. Lopez has had several accomplishments as a prolific music artist, restaurant business manager, actress, dancer, and fashion designer of a successful clothing and perfume line. I really admire Lopez and the inspiration she gives to so many people; she is a great role model who truly shows that minorities can make a difference.
Okay, on to her gown. What I really like about this one is the creativity and uniqueness of it. The unexpected folds at her chest and at the side of her waist flatter her curves and are dramatic enough without being too out there. Lopez finishes up with matching jewelry and a clutch as well.
I have come to realize that this classic pose that I admire so much seems to be a classic pose for actors and actresses. Three-fourths of the Oscar attendees (according to the Yahoo photos I've been flipping through) used this pose and looked most confident and comfortable in their skin. I like! :)
~TRA