QOTD: Would you rather indulge on an airplane ticket to the Bahamas or on a brand new iPad?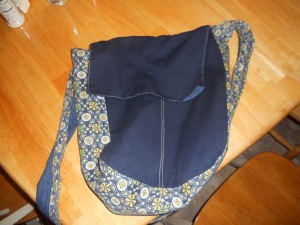 What you see to the left is my trusty, old handbag of 10,896 years (just about). My bag officially retired from its carrying duties yesterday. I got a little teary, especially since I've had it such a long time, but I felt it was finally time for us both to move on. *sniffle* You have served me well, dearest blue-floral-satchel!
I went shopping this past weekend to find the perfect new handbag – which is always really, really hard. A handbag needs to have just the right amount of pattern and solid color. It has to have a lot of pockets. It also needs to be big enough to put a couple of books in. The chemistry between me and my handbag also has to be strong. We can't get tired of each other too fast, you know.
But more often than not, when I do find something that I like I get really attached and I know that bag is the one for me! Which is what happened when I set my eyes on this baby yesterday:
Brown Satchel with Festive Inserts
Mossimo Supply Co., $30
Photo Credit: Wendy Lu
I have become a huge fan of brown leather and imitations lately. My sister has a purse made of faux brown leather too and it's gawjuss. It just both looks and feels good, and this handbag in particular has a little bit of everything – three pockets (on the inside), a colorfully lined pattern reminiscent of weaving looms and simple leather bows on either side of the handles.
One of the best things about this bag that first caught my eye was the thick braid in the front. It's so unique and convenient! I can't tell you how many times I have needed to reach into my purse and grab something–only to get irritated while fumbling with the clasp or zipper. Now, all I have to do is flip the braid!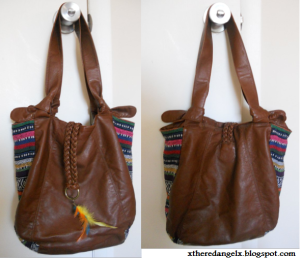 Throw in the feather, and I might as well be a hipster. Just kidding. Check out the satchel
here
for more details and other similar handbags that are perfect for spring fashion.