Question of the Day: Which restaurant (any) do you enjoy going to the most? What dishes do you usually order there?
My tummy has fallen in love. All the symptoms are there…loud grumbles signaling hunger as well as longing, soft murmurs that indicate satisfaction, and occasional sighs that tell its owner that it is daydreaming again. Of Marie Callender's Pasta Al Dente selections.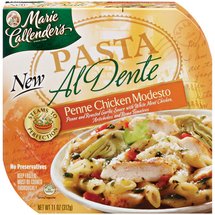 I discovered this brand a few days ago while shopping at Kroger's grocery store. As I strolled across the Frozen Foods section, the corner of my eye caught sight of a wide column displaying an army of golden food boxes. Marie Callender's: Since 1948, it said at the top left corner of each box. Each row held a different dish, and one with the word GARLIC in it caught my eye first. Penne Garlic Chicken. The outside cover had a photo of seductive pasta adorned with garlic and parsley swimming in a sea of a creamy, oil-based sauce. Embedded in between noodles were thick slices of perfectly grilled chicken, artichokes, spinach, and tomatoes.

I did not even notice that my mouth had been watering up until I realized that if I didn't swallow within the next few seconds, I'd be making a drooler out of myself in the middle of Kroger's. A small voice in the back of my head whispered to good to be true. I nodded and almost turned away when another label seemed to flash out frantically, calling me back. $1.88, it screamed, and it worked.
Within minutes, I was at the cashier register getting all of the groceries–with a stash of Marie Callender selections hidden within their own plastic bags–paid and piled up in my metal cart. I had never been so excited to eat before, and the moment I got home I pulled out all of Callender's concoctions. There were so many varieties! I ended up picking the irresistable-looking garlic chicken dish.
It is safe to say that I will be spending a few minutes of each grocery trip to Kroger's stocking up on these lucky new discovery dishes of mine. The moment I brought the first bite up to my lips, Marie Callender's pasta stole my heart permanently. The just right amount oftanginess in the sauce. The juicy, tender chicken meat. The herby, spicy zest that came with every bite. The perfect blend of capers, mushrooms, artichokes, and other food decor. And, of course, the soft penne noodles with oozing sauce from within. A thousand different tastes exploded within my mouth every time I took in a forkful.
There are endless varieties of Marie Callender's Pasta Al Dente selections. Here are just a few of my favorite, and are on top of my grocery list every week:
Penne Garlic Chicken (of course!)
Chicken Carbonara – this is a classic carbonara with fresh green peas and bits of delicious bacon; the pasta and chicken and food decor (peas and bacon) are mixed in a "smoky" carbonara sauce, which is actually a red sauce, not the classic white cream that I usually associate carbonaras with
Penne Chicken Piccata – I had this one today! This is a combination of penne pasta, slices of grilled chicken, capers, spinach, and a perfect sprinkle of parmesean chceese on top! The sauce is amazing–white wine lemon butter sauce!
Creamy Basil Chicken – the main vegetables in this dish are zucchini and tomatoes, and the noodles are a type of macaroni twist that are great at holding the red sauce inside and keeping the flavor intact.
Chicken Pesto Parmesean – simply delish! This selection is quite colorful, with its green broccoli, tomatoes, and mixed blend of herbs and spices. The thin, smooth noodles and Callender's famous grilled chicken slices are soaked in a cream-like pesto sauce.
There are many other different flavorful dishes. Each one is unique in its own way, whether it be an added spice or a twist in the sauce. Each one is packed with lots of flavor–much more flavor than the average Healthy Choice or South Beach Diet meal. Each one will make your tummy go wild (in a good way). Some of the dishes have up to 500 calories per dish, but some of them–like the Penne Chicken Piccata–only have 360 calories. Enough to keep you satisfied for at least three or four hours, but not so much that you'll feel bloated and guilty afterwards.
Unfortunately, Marie Callender–or should I say Kroger's?–knows how the economy works. Alas, the second time I eagerly passed on to the frozen food aisle, all of Marie Callender's dishes were GONE! D: I had to settle for the Healthy Choice Steamers, which work the same way as Marie Callender's Pasta dishes but definitely do not taste as good. The third time I came, however, Callender's dishes were back but the price had increased by $1.01! Although they now cost $2.89, about the same as Stouffer's dishes, that certainly has not stopped me from buying them. That, my friends, is how much in love my tummy is.
You can be in on the love! Whether you are craving for a delicious dinner or just even a snack in the middle of the day (and it's too early to eat the next meal), Marie Callender's Pasta Al Dente selections are a winner.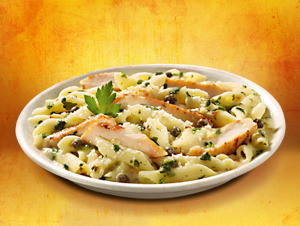 ~TRA
P.S. That scrumptious-looking thing up there is the Penne Garlic Chicken. Why are you still waiting?