Question of the Day: Do you prefer a cell phone that has a touchscreen (like an iPhone) or one that has a keypad (like a Blackberry)? Why?
So basically I took over 400 photos while I was in China and had a pretty tough challenge before me in deciding which ones to host on my blog. I've decided to do 3 different posts, each one called China 2010 Scrapbook, but with a unique subtitle. The 3 scrapbook pages will be: Scenery, Food, and Fashion. There were loads of different foods that I ate and I'm sure you've probably never seen before, plus lots of clothing and accessories that I bought. Can't wait to share them all with you!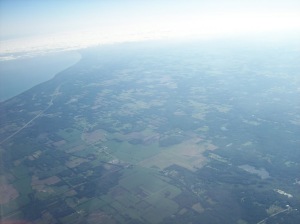 13-hour plane flight FROM Chicago (after the 2-hour connecting flight TO Chicago) TO Shanghai, China. I absolutely adore plane flights, mostly in part by the beautiful view from the sky. Honestly, you can literally see a map forming before your eyes as everything gets smaller and smaller and eventually turns into a whirlwind of green and brown. Love it.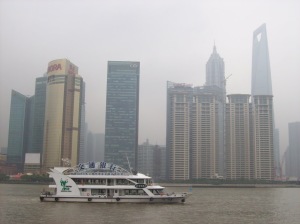 Here, I was at Pudong, one of Shanghai's major skylines. It serves as the more contemporary side of the Huangpu river; on the other side (the side that I was standing on) is called Puxi and is made up of more historical and traditional buildings. I think it's so cool how that skyscraper to the right curves inward and looks like some sort of fish or knife.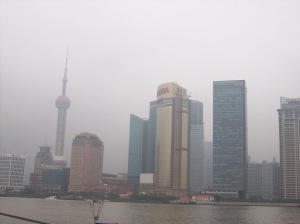 Another photo of Pudong, but with the famous Oriental Pearl Tower, which is actually a tower that operates television. Isn't it beautiful? Also, you can see exactly how foggy and humid it gets in Shanghai…most days, the weather there is characterized by lots of cloudiness and fog.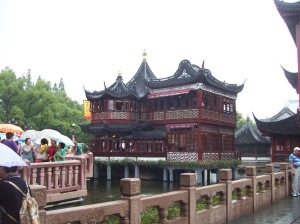 This is Chen Hua Miao, aka Yu Garden, otherwise known as one of the busiest and most famous bazaars in Shanghai. I bought tons of little trinkets and oriental gifts there for myself and my friends. Rain or shine, there are always loads of people there. Plus, the cultural architecture is wonderful to view and admire.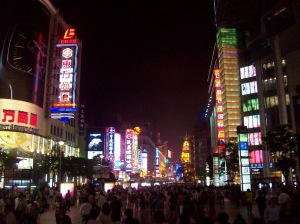 Nanjing Lu is one of the biggest shopping centers in Shanghai as well, and is particularly breathtaking at nighttime. As you can see, there are LOADS of people. Tons of malls and restaurants are located here showcasing the biggest name brands (Chinese as well as international), but the downside is that most everything is extremely expensive.
And here we are…pictures of The World Expo 2010!!! Over 200 countries from all over the world participated in the Expo, and each country had its own pavilion that they'd spent the past couple of years building in the Expo ground. The motto of the Expo was: Better City, better life.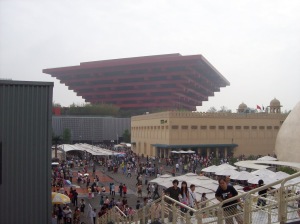 This is China's Pavilion, one of the biggest and most noticeable ones there. Unfortunately, only VIPs were able to get in, but from what I saw on CCTV, the pavilion mainly has very oriental and professional performances with traditional dancing and singing. Everyday there were crowds of people waiting in line, sometimes for as long as 9 hours straight, to go into pavilion after pavilion. Underneath China's pavilion, you can see some other neat pavilions.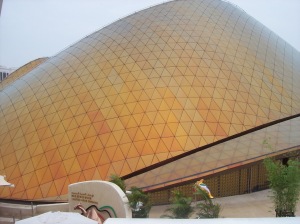 Welcome to the pavilion of the United Arab Emirates! I thought this was really beautiful…reminded me of a pot of gold, to be honest. There were loads of people in this pavilion, and it's not hard to see why. I realized that the first impression and architecture of the buildings have to be really impressive for them to be that popular.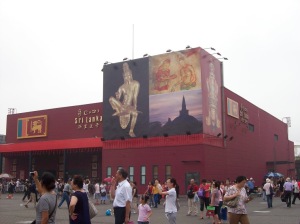 I think Sri Lanka's pavilion was one of the coolest! It looked very oriental and centered very much around their culture. Unfortunately I didn't go in, but it was homongous and had lots of people in it, too!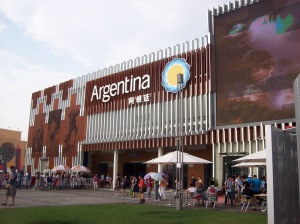 Here is
Argentina's national pavilion
. If you look closer, you can actually see all the people standing in line, waiting to go in. Outside the pavilion, there was a really big television screen on the outer wall showcasing Argentina.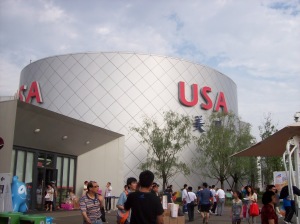 How could I have gone to the World Expo without seeing good ol' America's pavilion? Ours reminded me a lot of an airplane, hehe. The USA showed two large-screened movie clips and had a few performances led by American dancers and singers. They also had a small restaurant that served American food. We ate some burgers and fries, but it wasn't like the real thing. xD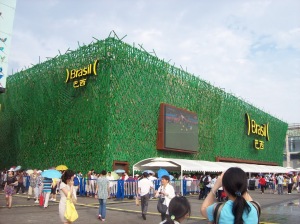 Brazil's pavilion was pretty neat. Like Argentina, they had a giant screen showing (I think) Brazil in this year's World Cup (congratulations to Spain, by the way!)…but I may be wrong.
~TRA