QOTD: Share some tips with us on how you work to decrease the amount of food waste in the trash can!
One of my biggest pet peeves is food waste. Throwing away leftovers and sour milk makes me cringe, and I can't help but think about how this extra trash could have been minimized if only the food had been consumed perhaps a day or two earlier. That's a lot of money wasted. Not to mention the kids starving in third world countries and the damage being done to the environment.
Obviously food waste can't be completely avoided, but there are several ways to make sure your trash can isn't smelling of rotten bananas and days-old chow mein at the end of the week. Here are some tips that I've learned during my one-and-a-half years as a college student so far:
1. Look in the fridge every morning. Peer around to see if there are any leftovers or almost-empty cartons of milk that you could down for breakfast or pack up for a quick lunch.
2. Actually use your fridge. I used to make the mistake of leaving leftovers or other food out, thinking that I would eat it later for a snack. Eight times out of ten, I didn't. I became too immersed in my homework (it happens) or something else came up or I just simply forgot–which left that sad Panera sandwich sitting all by itself for hours. Then when I came back from whatever I was doing, I had no choice but to throw it out. Now, I put food into the fridge no matter what I say I plan on doing.
3. Only buy as much as you can eat. I have a bad habit of spending too much money on too much food. I listen to my stomach more than I reason, and in the end I'm not realistic about how big it (my stomach) really is. My goal for the next couple of months is learn how to estimate correctly the amount of food I can consume in one sitting and apply that to my food purchases.
4. Split a meal with a friend. There's this great Indian eatery in our dining hall that serves the most delicious chicken curry combo. Only problem is, the serving is huge! It comes with two sides, naan and even rice; the price of each combo is a whopping $8.50. But these combos are just too good to pass. So I've made a habit of splitting the combo with a friend and it works out great–I get to save money and save food but still savor the spicy goodness of Sitar.
5. Low on a lot of basic ingredients? Mix 'em all together! Yesterday, I was roaming around my kitchen for something to eat for lunch and decided on macaroni and cheese (my all-time favorite food, you know!). Normally I just melt some butter and Velveeta with the noodles, but it turned out I had a lot of random foods — like an almost-empty container of butter and three slices of honey ham left — that I needed to finish off. So I got creative.
The end result? A load of empty containers/boxes/bags and pure cheesy, buttery, ham-y heaven.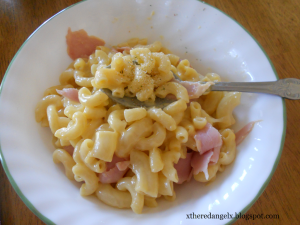 Yes, I do eat macaroni and cheese with garlic salt!