#DailyWings:
"Things we lose have a way of coming back to us in the end — if not always in the way we expect."
-Luna Lovegood
I used to think seven hours of sleep was a necessity for my brain and body to function, but I have underestimated myself. This month of November, it's a lucky night when I get five hours of sleep. Sometimes, I'll pass out at 9 p.m. and then wake up, dizzy and bleary-eyed, at midnight to start working for the next four hours. All thanks to National Novel Writing Month.
Okay, that's not entirely true. It's NaNoWriMo, but it's also my writing classes — including Reporting and Feature Writing — as well as the trillion organizations I'm involved with and The Great Internship Search. What is a college student to do?

Even with lack of sleep, I'm still behind on my word count. Very, very behind. Like, 10,000 words-behind. We're supposed to be past the halfway point right now, and here I am still stuck in the first 10k. It's not that the copy editor in me is trying to take over — although the pesky adverbs and drawn-out descriptions make me shudder once in a while — or that I have writer's block. In past years, that's been the case. But this year, it's something different. It's that I'm working on a novel I started four years ago; obviously, my writing style has changed since then.

The novel I am working on is the one I won NaNoWriMo with back in 2008. Those were the glory days, the literary frenzy that made me love the writing challenge. My characters had incredible self-awareness and social skills. They owned that novel — not me. But when NaNo ended, I was exhausted and so incredibly high on the idea of reaching 50k that my novel never flourished into anything more. This year is the first since then that I have dusted off my novel and actually reintroduced myself to the world I'd once created.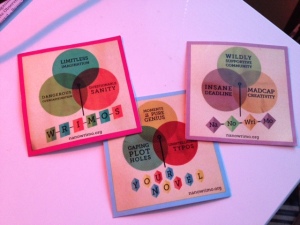 Motivational NaNo stickers! (Drag to URL
bar for a closer look.)
At the beginning, every fiber of my being struggled against putting those fingers to the keyboard. Honestly, it's a mystery to me how I survived that first day of hell — but I did. During Week One, I learned that falling in love twice is possible. Turns out, my characters have forgiven me for abandoning them in the first place. They only care about moving forward with the story. I zoomed past the first 10,000 words like a monkey driving a car with its feet. Okay, maybe that's not the best comparison to use, but you get what I mean. (Look at what NaNo has done to me — such terrible analogies! But… #sorrynotsorry)
NaNoWriMo is halfway over, which is a relief, but also terrifying. What if I don't finish in time? My word count is terribly embarrassing after all, despite every effort taken to write during even the busiest days. There's this fear gnawing inside of me, a fear of not being able to finish what I started. Even now, writing this blog post has wasted time, time that could've been spent writing another few hundred words. Every day, I juggle three types of writing: journalistic writing, scientific writing for psychology and creative writing. SOMEBODY SAVE ME. It's hard to remember that "the key is balance" when there are only so many hours in a day. But I'm doing my best with the time that I have left.
The hardest part of any writing session is plucking up the courage to start. When I finally delve into the novel, I don't want to stop. It doesn't matter whether the session lasts for five minutes or fifty. For as long as it lasts, I'm flying. I am creating something of nothing. I've come to terms with the fact that most of my NaNo novel has been crap so far. But every once in a while, a clever reference or relatively intelligent insight about my character or an actually humorous — not corny — piece of dialogue will get slipped in somehow, and I don't feel so ineffectual anymore.
Despite the word sprints and the race to finish and all this talk about reaching the average 1,667 words at the end of the day, perhaps that's not what National Novel Writing Month is supposed to be about. For me, it's about proving to myself that I have what it takes to put writing above everything else, if only for a month. It's about taking risks and making mistakes and experimenting. It's about surprises and the discovery of other worlds and friends you never knew you had. It's about reaching across infinite with your eyes closed without a clue as to what direction you're taking. The point is that you are moving.