Question of the Day: After the release of her newest album, Femme Fatale, and recent publicity, do you think Britney Spears is really "coming back" or do you feel that all this is just a desperate want and need to go back to her glory days in the '90s?
So a few days ago, it came to my attention that…..I HAVE FINALLY REACHED 100 FOLLOWERS!!! Well, I'm sure you could easily guess that my first reaction was: EEK!!!! My second reaction was…PARTY TIME!!! I mean, I knew this HAD to call for some sort of celebration. And so therefore I present to you….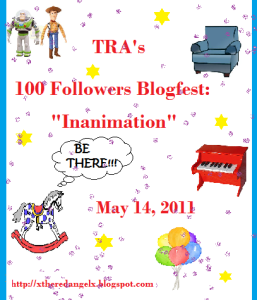 This is my very first time hosting a blogfest (ever), and I couldn't be more excited to share this special moment with "y'all." *tears through smiles*
The idea is to write an entry of NO MORE THAN 1000 words that somehow incorporates the personification of inanimate objects. It can be a poem, a short short, a letter (perhaps to your favorite childhood toy?), a fairytale, a scene from a dream, or even a song–anything you want! It can be something you've written in the past or it could be totally brand new…it's all up to you!
Please remember:
-No prizes, sadly, as I am a poor college student. But if there were prizes and if money wasn't an option, then I would totally buy each and every one of you a giant sprinkle cupcake with a shimmering firework on top. But yes, yes, this is just for total fun and sharing…AND, of course, to celebrate my achieving 100-followers :)
-You've got over a month to think of something! Post your entry on your blog on Saturday, May 14, 2011.
-On May 14, be sure to go around and check out everyone else's entries!
-People love shiny things and visuals, right? It's not required, but it would be great if you added the Blogfest Banner (up there *pokes up*) so everyone knows what on earth that angry letter to your toaster is for. And, of course, you may add any of your own images that may complement your Inanimation post.
-Tweets/Facebook posts/blog entries/sidebar links and other forms of advertising about this blogfest would all be greatly appreciated!! You can use the banner above or this mini one: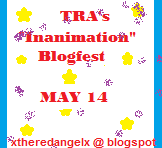 So what are you waiting for?
NEW UPDATE: Unfortunately my Linky List expired, and as of right now I don't plan on continuing my subscription. So sorry for the inconvenience! However, I have added my own little linky list below with bloggers who are currently already signed up. If you want to add your name, comment below with a link to your blogfest and the name of your blog, and I'll add your link. See you on May 14th!
1) .:The Red Angel:.
2) Tessa Conte
3) Begin anywhere!
4) Stephen Smith
5) Trisha @ WORD+STUFF
6) Colorless Landscape
7) Mia Hayson
8) Francine Howarth
9) Loralie Hall
10) World of Wendy Lu
11) The Golden Eagle
12) WRITING IN THE CROSSHAIRS
13) CatchyTips for Writers
14) Donna Hole
15) Kelsey Leigh
16) roh morgon
17) Writing on Writing: Amlokiblogs
29 responses to "100-Followers Blogfest: "Inanimation""