#DailyWings: "You know you're in love when you can't fall asleep because reality is finally better than your dreams."  -Dr. Seuss
Valentine's Day is just two days away, but if you still don't have any plans set in stone there is still time. The bad news is, all the restaurants are probably already booked for the entire night. The good news is, I'm a huge romantic and like to go out of my way when it comes to surprises for other people.
If you aren't able to score a dinner reservation or you're just tired of the same old V-Day traditions, there are other ways to make the day special for both you and your partner. You just need to get creative. Today, I've compiled a list of ideas for Valentine's Day dates that are adventurous and may even seem a little wacky.

And if you're single or your partner is out of the country or you just want to show yourself a bit of love? You can do any one of these activities with your friends or family and have just as much fun – even more fun – than if you were a part of a romantic duo.
1. Go on a treasure hunt.
Okay, so maybe this isn't totally unheard of, but honestly, how many treasure hunts have you been on in your life?
Treasure hunts take a lot of time, energy and resources to put together, but they can be extremely worth it. A simple treasure hunt might have the participant simply following rose petals on the floor to each Valentine's surprise (try handwritten poetry, truffles, concert tickets and small gifts). For a more complex hunt, you could draw a complete "treasure map" with a legend.
This is an especially good idea if you plan on proposing to your partner on Valentine's Day (like my colleague Juan! Woohoo!). That being said, you might want to do this only if you've been dating for at least a few months or even a year so it's appropriate for the current stage of your relationship.
If you're celebrating Valentine's Day with a group, a scavenger hunt with hard-to-find Valentines hearts with meaningful quotes on the back might be fun (don't forget a final prize for whoever finds the most hearts!).
2. Take your parents out to dinner.
Yes, you read that right. Take your parents out for dinner.
I have to admit, this isn't my original idea. Two of my co-workers (who also happen to be dating) are going to be taking one of their sets of parents out for dinner to celebrate their anniversary. I couldn't help but think, "Valentine's Day can't get sweeter than that."
It might sound weird to go on a double date with your parents, but the trick is to make the dinner about them. Get Valentine's Day cards for your parents, and even offer to pay for the dinner yourselves (or yourself, if you're plotting this solo). They'll appreciate the gesture and the opportunity to spend time with you.
Just make sure you ask them beforehand instead of making it a surprise, in case they did make plans of their own.
3. Get a haircut together.
I'm serious about this one. Getting a haircut doesn't have to be a chore, and it certainly doesn't need to be something you do only with your friends or your mother (although there's nothing wrong with that, either). If you and your significant other are adventurous and get along well enough, anything can be a date – even grocery shopping and haircuts!
Case in point: Andrew and I went to a hair salon last weekend and got our haircuts together for the first time. While my hair only needed a trim, Andrew had opted for the shaggy look since November and his hair was in dire need of some scissor action. Needless to say, I got to finish early and take wacky pictures of him while he was still under the cape.
If you want to make the haircut date an all-afternoon event, surprise your partner (or friends, or whoever your company is) with additional couple massage packages or even facial treatments.
4. Have a cooking marathon.
Instead of being like every other couple out there and dining at some fancy restaurant, turn the kitchen into a culinary arena and host your own episode of "What Would You Do If You Were On 'Chopped'? (Or, if you're really trying to up the cheese factor, call it something like 'Romancing the Kitchen.')
Pick a few random ingredients and go grocery shopping together the day of. Give yourself an hour to create the best dish possible using only those ingredients. Make it 30 minutes if you're feeling really competitive. You could even do a variation of the marathon by competing with one or two other couples (how good of a team are you and your partner?) or choosing just one quirky ingredient like fenugreek. Have your kids or even a friendly neighbor be the judge of your concoctions.
5. Do a YouTube or Blog challenge.
There's nothing more fun to do with a significant other than make fools out of each other on camera. Participate in a blogging tag such as the "TBR Tag" or "Boyfriend" Q&A tag, or a YouTube challenge like the "Baby Food Challenge" (you sample different flavors of baby food and try to guess what they are…yum). You might learn something new about each other. You might realize how awesome of a writer your partner really is, and suddenly find yourself with a new regular contributor.
Or you might just end up giggling nonstop and acting weird, and your readers will watch the video and/or read your blog, thinking, "This. This is why I'm a subscriber."
Speaking of which….
*drumroll*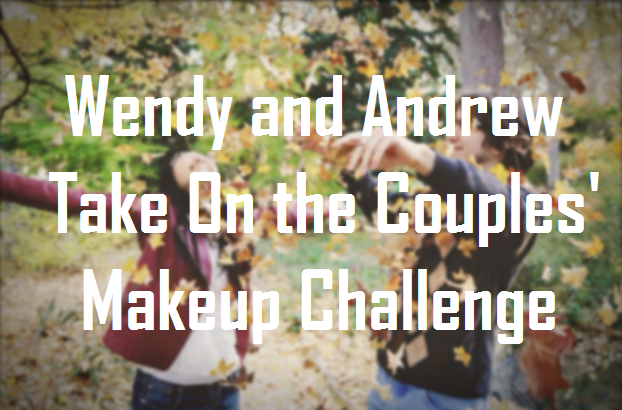 That's right! My partner Andrew and I will be partaking in a two-part makeup blogging challenge! If you've watched people do the "My Boyfriend/Girlfriend Does My Makeup" and "I Do My Boyfriend's/Girlfriend's Makeup" Challenges on YouTube, you know what I'm talking about. They're hilarious.
Truth is, neither of us are that great at makeup application – in fact, I've never put makeup on anyone before, just myself. But as a couple, we like being silly and doing new things together, and I've been wanting to cross this off my bucket list for a while.
So what is this for, besides funsies and the opportunity to treat each other's faces as art canvases?
As I have continued to fully integrate into the blogging community, I've seen nothing but kindness and welcome from all of you – from new faces and long-time lifestyle writers to those who simply love to read blogs. My Facebook page has recently spiked in Likes, and my website has seen more page views than ever before. I couldn't be more grateful for your support.
As my social networks continue to grow, I want to thank you all with this bit of entertainment.
So here's the deal:
Once I hit 250 Likes on "Facebook," Andrew will get to do my makeup with full discretion (i.e. "My Boyfriend Does My Makeup Challenge")
Once I hit 300 Likes on "Facebook," I will give Andrew a full face of makeup!
Yes, there will be lots of pictures. There *may* be video footage. I'm not a huge fan of seeing myself on camera, but there isn't much I wouldn't do for y'all.
To help me fulfill my goal, I'd love for you to visit my Facebook page and "Like" it if you haven't already. Right now, my Facebook page is standing at 242 Likes (a lot more than there were three days ago!) so it shouldn't be long before you will get to enjoy Part I of our couples' makeup challenge. ;)
Have a wonderful weekend!

Sending much love to each and every one of you, wherever you may be in the world. Let me know in comments down below what you did for Valentine's Day!