#DailyWings: "There is nothing in the world so irresistibly contagious as laughter and good humor." -Charles Dickens
Anyone who has dined with me multiple times knows that I'm a pasta lover and always have been. I have a confession, though: Every once in a while, I get tired of noodles and crave something else that's different. I finally learned how to make stuffed mushrooms.
When I discovered that the Alouette website has a simple recipe for stuffing mushrooms with its popular spreadable cheese, I couldn't wait to make my own. The thing I love about Alouette cheese is that it's both delicious and versatile. I've used it in sandwiches, as a dip and even for pasta sauces. It's creamy, flavorful and, of course, cheesy. A little goes a long way.
It's taken a long time for me to perfect these stuffed mushrooms. I've had more than one oven accident (see step #2). They've come out absolutely dry and burned, and they've also turned out watery. But that's what cooking is all about: experimenting until you're satisfied with what you've got.

What else? They're bite-sized. You'll want to eat them whole – pop 'em into your mouth like potato chips. The diced tomatoes make these mushrooms really juicy, and it's a great way to sneak vegetables into your diet if you're trying to be healthy. I love serving these lil' caps to relatives and especially friends who come over for a casual night indoors. One time, during one of our fun Q&A sessions, I asked Andrew, "If you were really small and could swim in any food, what would it be and why?"
"If I were tiny enough, I'd want to swim in one of your stuffed mushrooms."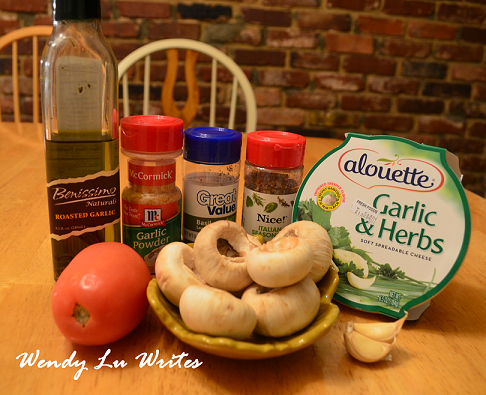 The Recipe:
10 large white button mushrooms, washed and caps removed
Extra-virgin olive oil
1/2 garlic clove, crushed
3 (generous) tbsp of Alouette Garlic and Herbs spreadable cheese
1/2 small tomato, diced (small enough to fit into mushrooms)
Seasonings: Garlic powder, basil
Optional: Parsley, chopped
1) Toss diced tomatoes in a small frying pan with olive oil, garlic and parsley if desired on medium heat for 1-2 minutes.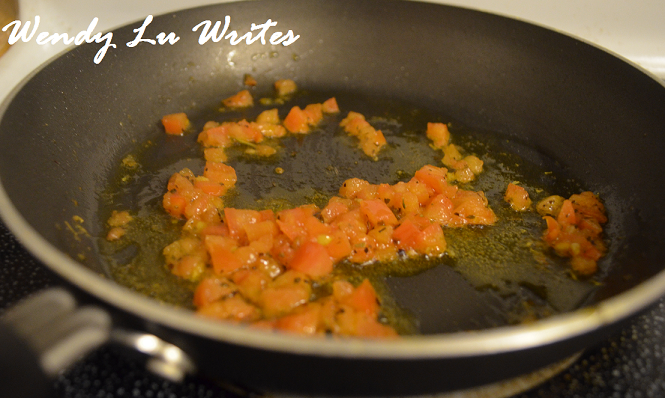 2) Preheat oven to 385 degrees (stick to 385-400 degrees). Remember that not all ovens are created equally! At my parents' house, 400 degrees did the trick, but when I preheated my oven to that temperature at home, the mushrooms burned slightly. Err on the side of caution, and stick to the lower end of the range given unless you know your oven doesn't get hot easily.
3) While the oven is warming up, add a dash of garlic powder and a dash of basil to the tomatoes. Toss for 20 seconds, then take the pan off the burner.
4) Transfer garlic tomato mixture into a small bowl. Immediately scoop a tablespoon of Alouette cheese and mix in with the tomatoes until nearly melted (the olive oil will still be hot and the Alouette will melt on its own). Add two more tablespoons separately until all the Alouette has melted into a thick, creamy dip.
5) Place a sheet of tin foil about the size of two sheets of paper onto a baking sheet.
6) Use a basting brush (or your clean fingers) to rub olive oil onto the cap of a mushroom. (If you don't want to individually coat each mushroom cap with olive oil, you can also drizzle olive oil onto the tin foil (placed on the baking sheet) and then spread it around with the mushrooms.) Scoop a teaspoon of Alouette-tomato mixture into the mushroom's hollow space until it's filled (but don't over-stuff it). Place the mushroom cap stuffed side up onto a baking sheet. Repeat this step for all the mushroom caps.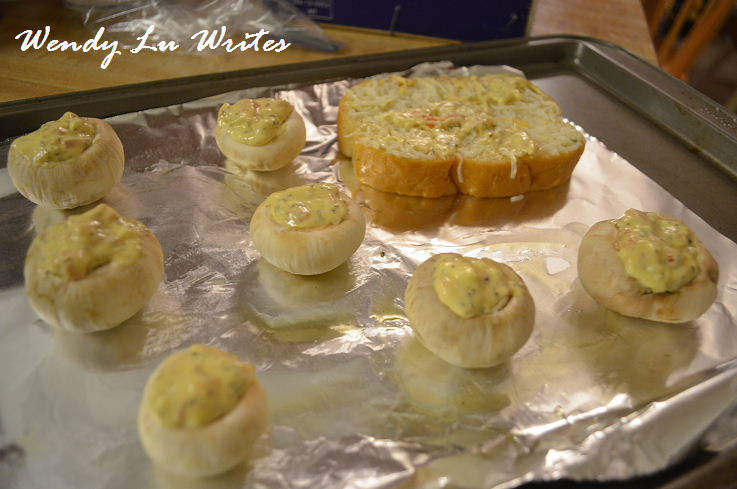 7) Place the baking sheet with stuffed mushrooms into the oven. Bake for 15 minutes or until mushroom caps are slightly brown and tender, and the stuffing has "risen." Serve while hot, and enjoy!
Estimated Calories: 250 calories for 5 mushroom caps
Estimated Time: 25 minutes
Serves: 2 (5 mushroom caps per person)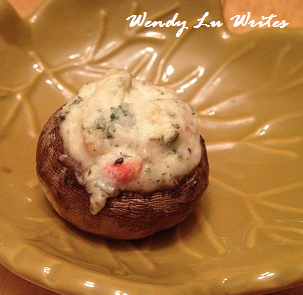 Feeling Creative?
If you love extra cheese on everything: Sprinkle a bit of Parmesan on top of each stuffed mushroom before popping the caps into the oven.
If this is just a side dish: These mushroom caps are great as a snack, but they're not filling enough for a whole meal! Serve these alongside a chicken breast and some rice.
If you throw a lot of parties: Stuffed mushrooms are fancy enough for weddings and popular enough for dinner parties, potlucks and other food-centric events. Arrange them in fun patterns, such as stars or swirls, in a large platter. Or place other hors d'oeuvres in between the mushrooms. It's up to you!

What is the best finger food or hors d'ouevre you've ever had? Where was it being served?