QOTD: What is your favorite wearable accessory?
I grabbed some frozen yogurt on Franklin Street today with a dear friend of mine. I got red velvet cake flavor + Oreo flavor + chocolate chips. Yes, red velvet cake froyo! It actually wasn't that bad…on the other hand, the froyo guy gave me way too many chocolate chips! I know you must be thinking, how is 'too many chocolate chips' even possible? Trust me, it's possible! I feel compelled to create a funny analogy, but the thing is, I have nothing to compare a mountain of chocolate chip froyo to…
After froyo, we stopped by
Lightyears
, a cute jewelry shop that has every type of jewelry imaginable and some really quirky items too–like
Lip Service Mustache Picks
. My friend (shout-out to Jingyi! <3) got me this beautiful gold pocket watch necklace for my birthday (even though it's still a month away!).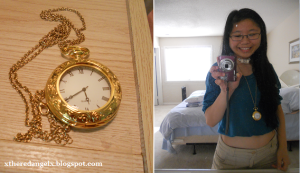 Pocket Watch Necklace
Y'all, I am totally in love with this thing. Ever since I saw the Chelsea Doll pocket watch necklace at
Fashion-Train
a couple years ago, I've always wanted one. Isn't it pretty?
Okay, on another note: despite my lack of
ROW80 Days
blog posts, I promise I've been writing! I've even crossed off a couple of my goals for this round! I just haven't had time to write about my progress due to recent family visits and summer classes. I will do my best to write a ROW80 post in time for Wednesday's check-in. :)
What do you think would go nicely with this necklace? What is your favorite accessory?