Question of the Day: What is your favorite way to relax on a weekend?
Last weekend, I picked up a box of
Good Earth
at the grocery store. I'd seen these products advertised in magazines, coupon books and other random places I can't remember. Since the start of the new semester, I have been trying to eat healthier. Less chocolate, fewer bags of chips (Smartfood popcorn is still fair game, of course), more green and more whole-grain. So far, I've been semi-successful.
Let me tell you, being a healthy college kid isn't easy. I manage to stay away from caffeine despite long, sleepless nights of studying around students living off of six cups of coffee a day. I remember to grab extra pieces of fruit on my way out of the dining hall. I even take a couple of naps during the week. But the one thing I can't seem to have enough time for is make dinner. When I go home after a long, hard day's work, I just don't have the energy or the patience to make a full-out meal for myself. In the end, I find myself microwaving a frozen pizza or Easy Mac.
So when I bought this…
I got really excited.
How did it turn out?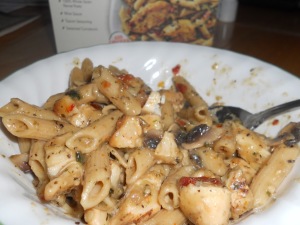 Excellent. Talk about nom-nom-nom. You can't tell me the photo above doesn't make you salivate even a little bit. Okay, I admit…the photo quality isn't great. But still, it was REALLY. Really. Good. Definitely beat Easy Mac, anyhow.
Have any of you tried Good Earth before? If so, what was your impression of this quick-and-easy Olive Garden substitute?
To my college friends, you should totally try this! Perfect for making in the dorm kitchen.