#DailyWings: "The more that you read, the more things you will know. The more that you learn, the more places you'll go." -Dr. Seuss
Happy (belated) National Read Across America Day aka Dr. Seuss Day! If you're a big Dr. Seuss fan like I am, check out this list of classic Seuss-y quotes or read all about his upcoming book, What Pet Should I Get? (Late authors can still get stuff published, didn't you know?) Or, best of all, take this awesome Buzzfeed Quiz to find out which Dr. Seuss book character you are (I got Horton!).
Dr. Seuss's books were some of my favorite growing up (namely Green Eggs and Ham and There's a Wocket in My Pocket!). If you work with a child or have kids at home, take an hour or two today and read with them – it'll give them a break from the computer screen and remind them the joys of books. After all, as Dr. Seuss always said, "the more that you read, the more things you will know. The more that you learn, the more places you'll go." A wise man, he was.
Whew. Now that we've celebrated Dr. Seuss on the blog (albeit a day late), it's time to get into my monthly favorites! It still feels like February, which doesn't come as a surprise since there's only 28 days in the month. How is it already March? Where did the time go? Is it just me, or do I ask this in every Monthly Favorites blog post?

As always, February was characterized by harsh winds and – hooray! – a powerful snowpocalypse! You'll learn more about #Snowpocalypse2015 toward the end of this blog post – it's all about saving the best for last, right? Here are my other monthly favorites to up the anticipation:
1. My Pink Snow Hat and Burnt Orange Mittens
I don't know what I would've done in February if not for my snow hat and mittens. I'm talking about them together because I almost never wear one without the other (usually because it's that cold). Both of these were gifts from family members – my sister Hope got me the pink toboggan hat from Forever 21 a couple Christmases ago, and my Aunt Rose knitted the mittens for me herself! Awesome, right?
The hat covers both of my ears perfectly and makes me feel like a cute little gnome thanks to the pink puff at the top. The hat also has a knitted heart pattern on it, and the colors remind of me strawberries and cream.
The mittens are awesome, too, because they're thick and toasty – unlike some pairs of mittens that are just too thin to be useful for the wintertime. Best of all, when I crank up my car and start driving, the steering wheel is freezing cold and these mittens keep my hands from going numb. (Thanks to my friend Anondo for the tip!)
As for the pair of mittens, I literally watched Aunt Rose as she knitted them for me a couple years ago. Whether I have a wet snowball fight or just need to protect my hands from the cold, these mittens do the trick. They're soooo warm!
2. "Flushed" Blush in Pacifica's Solar Palette
Oh. My. Goodness. I bought Pacifica's Solar Palette on a whim via Ipsy's website. This was my first time cashing in on an IpsyMe offer; I normally don't get sucked in by their deals, but six eyeshadows, three highlighters, a blush and a bronzer? It was hard to say no.
My absolute favorite product in this palette is the blush, hands down. I did my makeup look on Saturday using this palette, and even my parents (who haven't been a huge fan of my obsession with makeup) complimented my cheeks. There is a bit of a sheen so it's not completely matte, but the sheen isn't super intense or overpowering on your face. I did my makeup around 3 p.m that day with no face primer and the blush stayed put without reapplication until I washed it off around 10:30 p.m., so the staying power is pretty impressive.

"Flushed" is a super pigmented Pacifica blush looks beautiful when it's blended well; it's perfect for the summertime when you're self-tanning and want a deeper glow to your cheeks. The tint can be described as dark peach + dusty rose.
3. Matching Flower Ring + Flower Earrings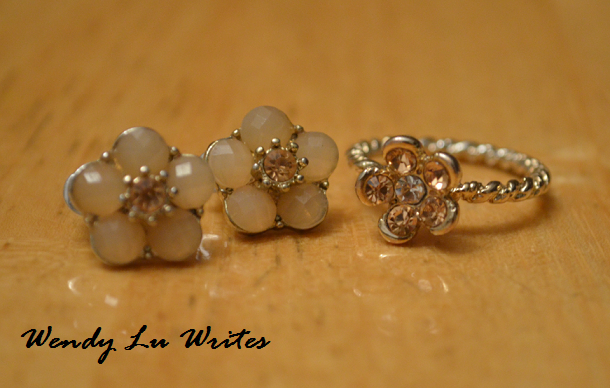 Maybe it's because I'm ready for spring, but I've been digging a jewelry combo of my peach-colored flower earrings and matching ring from Forever 21. It's funny because I got them separately, and only just realized how well they go together. The ring is good for stacking or wearing side by side with other rings, thanks to its thin, simple gold band. The earrings make any outfit dainty and less intimidating – great for days when I'm feeling laid-back.
It's funny because I'm normally not into floral designs or flower jewelry; maybe it's because I'm ready for spring. I recently picked up Clinique's "Happy in Bloom" perfume at the mall a few days ago, and I have a feeling it's going to be a March favorite…
4. Forever 21 Cozy Striped Sweater
This thick striped sweater (gray and navy blue) was on sale at Forever 21 for $15. I actually tried it on, thought it looked weird on me and *almost* put it back on the rack before coming to my senses. I thought to myself, You don't HAVE any sweaters like this, Wendy! Besides, feel how comfortable it is! I have no regrets.
Now, this sweater has officially become my new best friend (sorry, cream-colored fur vest in my closet). I almost didn't buy it because I wasn't sure I liked the wide collar, which can make any shirts underneath look sloppy and out of place. I realized after a couple days of wearing it that the wide collar is probably meant for an "off the shoulder" look.
I usually wear it with a pair of solid charcoal leggings (also from Forever 21) and gray flats to match. If I want to seem more put together, I'll add a colorful scarf and/or gold jewelry to finish the look. Definitely one of my comfiest indoor winter outfits!
5. Aveeno Lotion
Another winter staple. I'm not sure what the condition of my hands would be without Aveeno lotion, particularly the "Active Naturals Skin Relief 24-Hour" version. In winter months like February, it feels like all the moisture has been sucked out of the air. Whenever my legs start to get flaky and irritated from the dryness, I lather a bit of Aveeno's"skin relief" lotion and it calms my skin down instantly.
Andrew's mother got me a travel size bottle of Aveeno's Daily Moisturizing Lotion, which I keep at my work desk. It's not nearly as thick or skin-calming as the "Skin Relief" lotion, but it's fragrance-free like all Aveeno lotions and works like a lucky charm to moisturize your skin for more than just a few minutes, unlike some lotions.
6. The Snowpocalypse of 2015
I know most people tend to find snowstorms annoying, power outages inconvenient and the resulting icy streets a horrible driving experience, but it's an adventure to me. I'll give anything to break the monotony of daily living, even if that means less productivity. (Oh, yeah. By the way…sorry I didn't blog sooner.) Personify's office closed twice for multiple days at a time,compelling me and nearly all of my colleagues to work remotely.
We actually lost power twice during February; the second time, the power was out for more than 14 hours. At one point, all of the cities in the NC Triangle experienced power outages, including Chapel Hill, Raleigh/Cary and Durham! For a more in-depth look at my February snow experience, scroll down for "The Snowpocalypse Diaries."

If you experienced the Snowpocalypse in February as well, whether in North Carolina or elsewhere, let me know in comments how much snow you got and what you did to pass the time if you stayed home from work/school!