#DailyWings: "I'm not saying that putting on makeup will change the world or even your life, but it can be a first step in learning things about yourself you may never have discovered otherwise. At worst, you could make a big mess and have a good laugh." -Kevyn Aucoin
Back in mid-February, I announced that Andrew and I would be participating in the ever-popular "My Partner Does My Makeup/I Do My Partner's Makeup" challenges. We decided to split the challenges into two different posts, and after I reached the following Facebook milestones:
Once I hit 250 Likes on "Facebook," Andrew will get to do my makeup with full discretion (i.e. "My Boyfriend Does My Makeup Challenge")
Once I hit 300 Likes on "Facebook," I will give Andrew a full face of makeup!
If you visited my Facebook page recently, you might have noticed that I've reached that first milestone of 250 Likes! I'm really excited and want to let you know that I appreciate all of your support. I know 250 Likes may not seem like a big deal to some people, but I don't want to take anything for granted. Whether or not you follow me on social media, and regardless of how long you've been following my blog (or if this is your first time – in that case, welcome!), it means a lot that you take the time to "visit" me and my little online abode!

As promised, today I present to you part one of the couples' makeup challenge:
"My Partner Does My Makeup"
A few days ago, Andrew came over and I introduced him to my complete makeup collection, including the products he would end up choosing to use on my face moments later. This challenge wasn't something he dreaded. On the contrary, Andrew was more enthusiastic about getting to do my makeup  than I'd expected him to be (and he's really excited for me to put makeup on him). In fact, he was all for it. For both of us, the makeup challenges are simply fun, silly mini-adventures we get to do together as a couple.
Up until that day, neither of us had put makeup on anyone else before. He did have some familiarity with a couple of the brands such as e.l.f. because we watched Jessica, or JAMBeauty89, do the Boyfriend Tag with TylerTravelsTV on YouTube and Tyler knew what "e.l.f." stood for (for the record, it was adorable).
Andrew occasionally watches me do my makeup before we go out, too, which means he had some idea of what products go where on the face. He also, as you will see in the footage we captured on my camera, asked a lot of questions.
Here's my photo and video diary of the "My Partner Does My Makeup" Challenge:
Since this challenge is typically seen as a vlogging venture, Andrew and I decided to try and record the makeup challenge. Sadly, I didn't get all of the footage because my camera didn't have enough space, but I was able to get most of it!
Please excuse any awkward moments, bad quality and/or weird angles (and also my complete lack of photo/videogeneity). This was my first time recording a video of this nature on my camera! The second part of the couples' makeup challenge will be better :)
Here are all of the products Andrew picked himself and used on my face:
Some of my favorite moments from this challenge were when Andrew was trying to "discover" how the products work and using his own words to describe them. For instance…
When he dipped his finger into the concealer, called it "this stuff" and blooped it all over my face
When he packed green jewel-toned eyeshadow all over my lids using the e.l.f.'s Smoked Prism Palette, which includes highly pigmented shadows, and said, "Oh wow, that's powerful" (didn't make into the video – sorry!)
When he used my e.l.f. Studio Eyeshadow "C" Brush to paint blush and bronzer onto my cheeks like an artist
Here is the final look: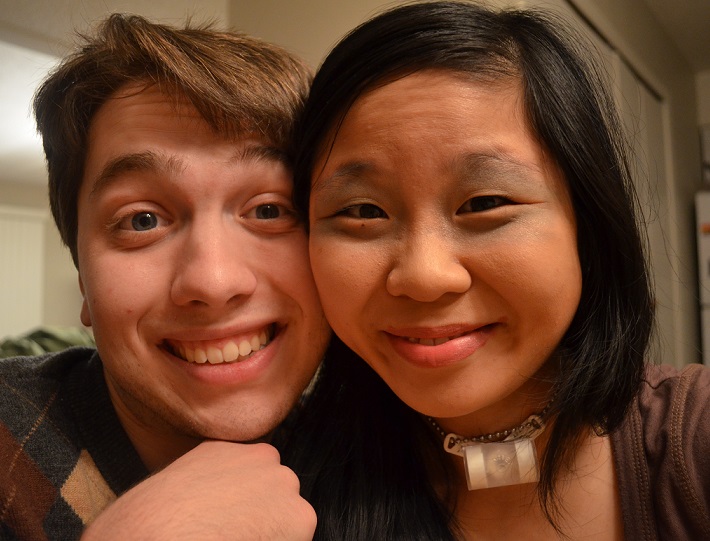 Sorry again for the video quality and bad lighting, but we learned our lessons and will make sure the next one, "I Do My Partner's Makeup" is better. Thanks so much for stopping by! Have you ever played around with makeup (just for fun, not for beauty purposes) before?

 Don't forget, be sure to visit and "Like" my Facebook page if you haven't already to help me reach 300 Likes – the next milestone I need to reach before part two of the Couples' Makeup Challenge goes up! Also, huge thank you to my partner Andrew Soboeiro for doing this with me! Can't wait to paint your face up next :)