#DailyWings:
"'Amateurs sit and wait for inspiration, the rest of us just get up and go to work."
-Stephen King
The funny thing about the end of summer school is that, after an intense three weeks of studying and fast learning and exam-taking, everything slows down and suddenly you have a wide space of time lying before you.
Yesterday, I went to the interfaith chapel that is connected to the local hospital and spent five hours in one of the meditation rooms. I almost never see anyone in the chapel, even though it's a beautiful and peaceful place to spend time alone, reflecting. The meditation rooms are low-lit and set at cool temperatures.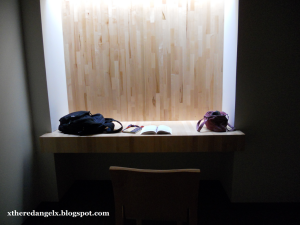 Doesn't this look lovely?
Now, I don't really affiliate myself with any religion. To me, religion is deeply personal and individualized because it makes up your entire belief system and spiritual views. No two people's religions are alike, no matter what name you give it. And so even though I don't go to church or attend religious activities regularly, I still try to find the time to meditate.