I may have mentioned on my blog once or twice before that I am a part of a four-year leadership program at UNC-Chapel Hill called North Carolina Fellows. There are no words for what this program means to me. Perhaps it will suffice to say that I would not be the same person if not for NC Fellows, that the people in this community have challenged my perspective on the world and helped me to gain a greater sense of self-awareness, that joining this program was the best decision I've ever made in college.
A few days ago, we lost someone who is and always will be an integral part of the Fellows community. Ovik Banerjee was a 2012 UNC-CH graduate, a Venture for America Fellow, a North Carolina Fellow, a true friend, a brother, a son and so much more. In NC Fellows, he served as a student director and a teaching assistant for the senior capstone course. He was always everywhere (but mainly the CLD office), and he was just so Fellowsy. Even after Ovik Banerjee graduated, his presence still lingered in the Carolina Leadership Development (CLD) office and in our seminar room. But Ovik's impact doesn't stop at Fellows – he was a priceless gem of UNC-Chapel Hill.

I always looked up to Ovik, not just because he was kind and honest and accepting of others, but because he wanted to get as much life as he could out of every experience he had and every person he met. He made it his mission to "get coffee with every single Fellow" before graduation. He stayed in touch with people no matter how far away they were or how long it'd been since they last spoke. The last time we talked on the phone was March; that conversation seems long ago now, but I remember feeling ecstatic that Ovik had even thought to call me, he was so busy.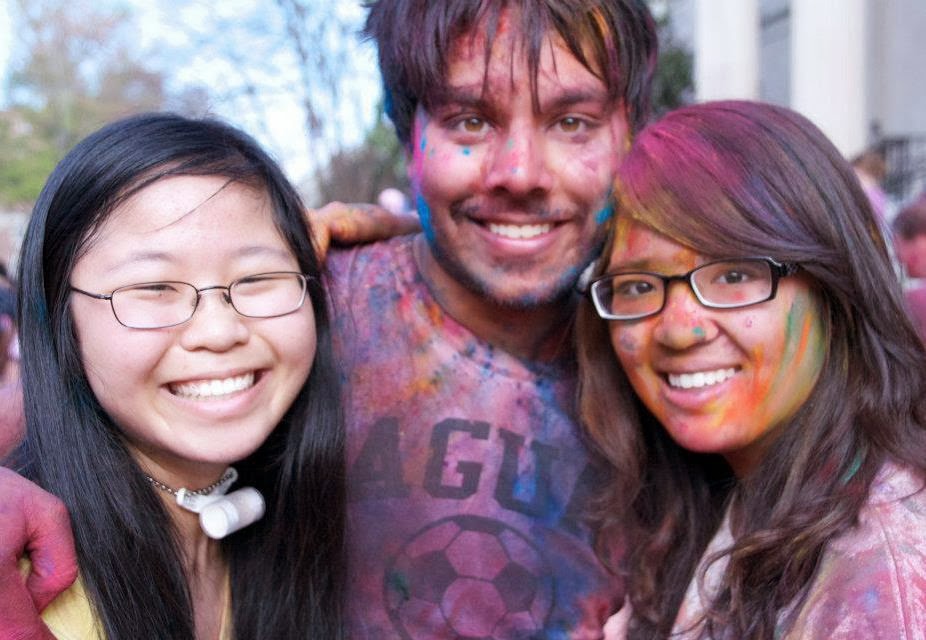 "You're doing it wrong," Ovik said to me at UNC-Chapel Hill's Holi Moli in March 2012.
Photo Credit: Hannah "Nemo" Nemer (possibly)
Ever since I learned about Ovik's death, I've found myself searching for the emails, texts and old conversations that we had, wanting to preserve them forever. I keep wracking my brains for every single memory I have of him, never ever wanting to forget what he was like – the sound of his voice, his smile, his walking stance, his big brown eyes. The way he called me "Wendy Lu-Who." I used to hate that nickname back in grade school, but somehow I never minded Ovik calling me that.
Memory is a powerful, valuable tool. Most of my experiences with Ovik are retained only in my mind, and it's important for me to write them down lest they should become foggy over time. Sadly, memory-keeping can become difficult when you lose touch with what's fact and what was subconsciously made up while remembering too hard. But what matters most to me is that I don't forget the essence of each little scene, the small and real talk exchanged, the sentiments felt.
I could easily describe Ovik with words like kindhearted and honest and inspirational (in fact, I already have), and they would all be true. But I hesitate to impose my perception of who he was as a person onto everyone else by using too many labels. While he had an impact on each person he knew, everyone who was close to Ovik had a different experience or relationship with him. So instead, I've put my thoughts into words, and those words into written memories that show a glimpse of Ovik's impact on a single person.
Whenever I want, I can just remember back to that time when:


(for the sake of preserving space, only some of my most salient and favorite memories are listed)
-I met Ovik for the first time on
Fellows Final Interviews Day
in spring 2011. It was lunch break, and I was sitting with Michael, Gwen, Dominique and maybe Alyxandra (were we in the student union? Probably, but I'm not sure). When Ovik greeted our table with a friendly smile on his face, Michael – who knew him already – introduced him to the rest of us.
-I went to my first Mipso show and felt so nervous about attending "my first real college concert." Ovik was there, and he assured me that I could stick close to him. He ultimately made it his responsibility to watch over me, to make sure I never felt uncomfortable in such a large, suffocating crowd. When he first saw me that night, he teased, "You don't wear a band's shirt at their concert!"
-Ovik and I went to Buns for lunch and I got a veggie burger for the second time ever. We talked about life, legacies and aspirations. He asked a lot of questions (no surprise there) and answered a lot of them, too. I always felt comfortable talking to Ovik about anything; consequentially, he knew a lot about my medical history that, back then, few people knew outside of my Fellows class.
-He called me back in March, just to catch up. "So, I hear you're dating my brother's best friend," he said, teasingly, pausing as if to let me know he expected to hear more details. During the time it took for him to walk to a friend's shindig (pool party, maybe?), we chatted about life in Las Vegas and life back at Chapel Thrill. I told him he should return to UNC-CH for Fellows Interviews Day every year. As I recall, he did come last year. I'm so glad he did.
-He asked me to edit and read over one of the articles on his blog, Not Drinking, the Unspoken Taboo?  before it was published. Ovik was not only my friend, but a mentor and one of my biggest cheerleaders. He read my blog. He came to me for editing advice. He put a lot of faith in my writing abilities. I can never thank him enough for believing in me.
-He sat in the back of my very first writing seminar, which I hosted as part of the Fellows mini seminar series. Ovik was the one to tell me, a day or two before the seminar, not to expect too many people. He said I shouldn't be discouraged in case the audience count was low, that the Quality of each person's experience at my seminar was far more valuable than the number of attendees. We actually had about 12 or 13 people show up, and our discussions were great. Best of all, though? A Fellow texted me that next morning, saying she was inspired by my seminar to pour her heart through writing for the first time in a while. You were right, Ovik.