#DailyWings:
"Nobody can make you feel inferior without your consent."
-Eleanor Roosevelt
A few weeks ago, my ethics professor forwarded to our class an article from The Daily Tar Heel about a new student organization that promotes disabilities awareness, Advocates for Carolina. I was so incredibly happy to hear that a group had been created for students who must find alternative ways to live, and joined without hesitation. 
What I love most about UNC-Chapel Hill is that there's something for everyone — a major, an organization, an outlet for self-expression. I felt welcome since the first day I arrived at Carolina; never before had I been a part of such an accepting community. In particular, North Carolina Fellows has taught me how to be comfortable with myself. I've learned that sharing my story doesn't push people away; often, doing so brings me closer to them. 
But as one of those students who has lived with the "disability" label for years, I'd always felt there was one other thing missing from my college experience: a space in which to share my story and learn from others in similar situations. Advocates for Carolina has filled this void. We emphasize on accessibility, advocacy and awareness. We seek to remove stigma, educate others about disabilities and provide each other with validation. Although we may live with different circumstances, this community reminds each of us that we aren't alone.  

Throughout March, Advocates for Carolina hosted "This Able Life" photo and narrative exhibit. Fellow Tar Heels shared their personal stories about what 'disability' means to them. At the gallery reception, we had an amazing turnout: students, professors and Chapel Hill locals all came to view our exhibit.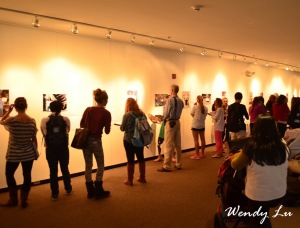 "This Able Life" photo and narrative exhibit, hosted by Advocates for Carolina, was featured in March at the art gallery within the UNC-CH student union.
I was lucky enough to have my narrative, along with a photo, accepted for the exhibit and to give the opening speech with Advocates founder Katie Savage at the reception. Although I am more than happy to share my story with others, this was the first time I chose to do so in public. For three whole minutes, everyone's eyes were on me as I talked about the mission of Advocates for Carolina: giving a voice to students with disabilities. 
Below, you'll find the narrative I wrote for the exhibit: 
"'Don't you want to be normal?' Doctors, friends and strangers ask me this casually all the time when they see me, not knowing that this question has puzzled me for years. 
Since birth, I've worn a tracheostomy tube – or trach tube – that allows me to breathe properly. Because of vocal cord paralysis, my nose and mouth have never served as proper airways. As lucky as I am to have grown up with a loving family, my childhood was filled with homecare nurses, procedures and muffled murmurs from people who didn't understand or chose to judge first. 
It's never easy to endure blunt questions and curious stares, but despite the challenges, I've realized that without these experiences I may not have learned how to appreciate all the good things in my life. Going through these experiences, I feel particularly passionate about helping others who must also find alternative ways to live. And, slowly, I began to realize how much it means to me when people show interest in learning about my lifestyle, and ask how I'm different as a result of my "disability."
Terms like "disability" and "medical condition" never resonated with me, and why should they? Because I have had to wear a trachoestomy tube for all 20 years of my life, I've never known anything different. It's a part of who I am, but it doesn't define me. 
Disabilities awareness isn't about celebrating disabilities, but our differences and individual experiences. It's about educating each other and realizing what makes each person unique. It's not the disability – or condition or whatever you call it – that makes us who we are, but how we adapt to any limitations and make the most of life in a way that's most fulfilling for us."
Wendy Lu
UNC 2014
If you would like to read more about the exhibit and view other student entries, check out our recent feature on 
WUNC 91.5 on NP
R
. While the exhibit is now over, Advocates continues to spread its name and mission; on Wednesday, our organization was selected to be an official 
UNC Campus Y
 committee (huzzah!). We can't wait to partner up with other campus groups and bring many more disabilities awareness events to UNC-CH campus in the future. 
~ ~ ~ ~ ~ 
I also want to take a moment to share with you an opportunity to help a fellow UNC-CH student and dear friend of mine.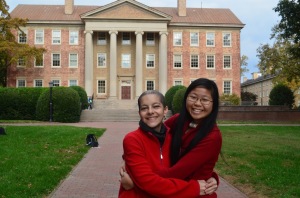 Photo Credit: Chenxi Yu
Laura Rozo is a Carolina student, a Morehead-Cain scholar, a big sister, a friend, a mentor
; she also served as the closing speaker at TEDxUNC 2013. In 2011, Laura was diagnosed with stage IV metastatic
rhabdomyosarcoma
. Unfortunately, the treatment therapies have not stopped the cancer's progression in Laura's body. Laura's physician has advised her to share with her family her wishes regarding her end of life care. She continues to receive hospice care at home, but there are financial implications for her family created by the increasing level of medical care she needs. 
Laura and I first met through NC Fellows, but we didn't really get to know each other until last fall. We were both waiting at UNC Hospitals (she had a doctor's appointment, and I had a meeting), and began to chat after we recognized each other from the leadership program. 
We started talking over our respective hospital experiences. After bonding with Laura for a while, I realized that even though our situations were very different, we understood each other and I hadn't felt this connected with another person in a long time.
Here's someone else who knows what it's like, I thought. 
Hundreds of other people have gotten to know Laura at UNC-Chapel Hill and through TEDxUNC. At Advocates For Carolina's "This Able Life" gallery reception, we raised donations to go toward Laura Rozo's fund and asked visitors to sign a card for her. Many of them had never met Laura before, but left encouraging words about how her story made an impact on them. Over the months, Laura has taught me that no matter how hard things may seem, we're never alone.
Take a few moments to watch Laura's powerful TEDxUNC 2013 speech, "If Not Now, When?"
If you find Laura's words and strength to be inspiring, please consider joining my dear friend and many others who have been touched by her friendship and love for the Laura Rozo Benefit Night. The event takes place on Tuesday in Morehead Planetarium at UNC-Chapel Hill, from 5:30 to 7:30 p.m. There will be performances, a raffle contest and food served by restaurants from Franklin Street. 
To learn more about Laura's story and the impact she has made on her friends in the Carolina community, check out Everyday Ambassador's feature:
Wisdom and Mangoes with Laura Rozo
. As people like Laura continue to fight cancer every day, here's hoping one day we can finally beat cancer for good.