#DailyWings
:
"I thought I understood it, that I could grasp it. But I didn't, not really. Only the smudgeness of it; the pink-slippered, all-containered, semi-precious eagerness of it. I didn't realize it would sometimes be more than whole, that the wholeness was a rather luxurious idea. Because it's the halves that halve you in half. I didn't know, don't know, about the in-between bits; the gory bits of you, and the gory bits of me."
–
Like Crazy
Being done with finals is like breaking the surface of a very deep lake after having been underwater for much longer than your body can handle. And there you are, engulfing buckets of air and grasping desperately at nothing. Once you're finally at peace with the waters again, you look around and realize you don't know which direction to take next. You're just glad you were able to swim to the top.
This is how I feel.
The weird thing about freedom is, after you get over the excitement of finally having time to do whatever the hell you want, there's that moment when you really don't know what to do first. Catch up on "Glee"? Bake cookies — and eat all of them just because it's been days since you haven't eaten anything not prepackaged? Write a blog post about being done with finals? Get back into reading that book you started three months ago?
Or maybe you're like me, and you start writing a laundry list of all the things you'd like to do before the year is over and another begins (if the Mayans weren't correct, that is). Let's swap? Here's mine:
1. Actually get eight hours of sleep every night.
2. Watch The Hobbit
3. Watch Les Miserables on Christmas
4. Watch the original "Superman" series (I – IV)
5. Write a poetry series.
6. Get through "Lost" (Season II)
10. Apply to 1,983,021,830,219 internships
My holidays will be spent in New Orleans, somewhere I have always wanted to go to but never had the chance until now. I can't wait. It also occurred to me this morning that, including today, there are officially 12 days left until Christmas! Although I didn't grow up in a household that emphasized religion, Christmas has always been my favorite holiday, one that I associate with family, twinkling lights, marshmallows and socks. I've created my own challenge as a means of counting down the days…and will be blogging updates daily!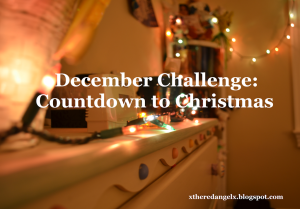 Dec. 14 — Send one text message wishing someone good luck on her last final exam
12:09 p.m. "I hope your exam went well! :) when it's done forget about it! You did your best! Btw did the gift ever get there??"
Dec. 15 — Apply for two internships with looming deadlines
Dec. 16 — Read three chapters of "Mockingjay"
Dec. 17
— Watch all four
"Superman"
movies (yes, on the same day)
Dec. 18 — Put five extra ornaments on our Christmas tree
Dec. 19
— Write a six-page scene for my
NaNoWriMo
novel
Dec. 20 — Add seven new holiday songs to my Spotify playlist
Dec. 21 — Visit eight new blogs (provide any recommendations in comments below!)
Dec. 23 — Bake ten gingerbread cookies!
Dec. 24 — Take an eleven-minute walk outside
Dec. 25 — Snap twelve photographs capturing the magic of Christmas
How are you spending the holidays? What do you hope to accomplish before the year is over?

Milestones: During the past few days, I reached 40,000 page views. This is my 200th blog post on TRA. Thanks for following!
If you want to keep updated with the blog, please "Like" The Red Angel Blog on
Facebook
. Once you "Like" the page, please click the 'Liked' button underneath the cover photo and make sure the 'show in news feed' option is checked. That way, you'll be able to see the updates!