#DailyWings: "We don't need you to fit into the system. The system is full. We need you to escape it & then show us how it's done." -Jon Acuff
Blogging From A to Z is an annual month-long challenge in which bloggers around the world are invited to write a blog post every week day for the month of April, with each day corresponding to a letter in the alphabet (26 week days = 26 letters). For this year's A to Z challenge, my theme is personal anecdotes, or "childhood memories."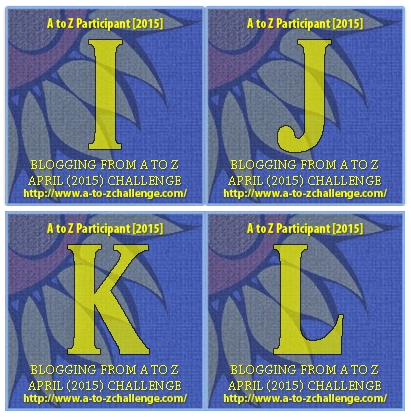 It finally happened, y'all. I was doing so well, blogging every day for April A to Z, and then it happened: I fell behind and missed a few days. Gah! Oh well…I suppose I shouldn't be too hard on myself, seeing as this is my first year doing the challenge. Anywho, what counts isn't that I tripped – it's how I pick myself back up, right?

For today's post, I decided to combine the letters IJKL (the ones I missed the past few days) into one acronym that stands for: I Just Knew Labels. Growing up, I wasn't the most "popular" kid in grade school – quite the opposite, actually. Like many other kids, I was teased and made fun of not only for my disability, but also because I had to have a nurse accompany me to all my classes and received so-called "perks" such as leaving class five minutes early (a strategy for avoiding large crowds of students when the bell rang, thus minimizing health risks).
There's a reason I consider the part of my childhood I spent in Boston as "the golden days." Back then, there was no such thing as popularity, at least as far as I was aware. Boys and girls played nicely together (no cooties). Nobody judged me for being different. Children weren't ostracized, except the ones who were actually mean to other kids and made a point of being difficult to be around.
It wasn't until I moved to North Carolina in the middle of third grade and became the most talked about student in the class (because the teacher announced the arrival of a new student from Boston who had a "special" medical condition) that I became aware of "popularity." Kids would pass notes like "Welcome! I hope we can be friends!" to me in the middle of class, along with drawings of us playing on the jungle gym outside.
Soon, I realized that kids actually formed their own social groups, and you had to choose to be either in one or the other. If you tried to be in both, the kids in one group would be like, "Why are you hanging out with them?" These groups even had their own names. By the time we started middle school, these groups were called "cliques" and had established labels: Band geeks. Emos. Athletes and their cheerleader girlfriends. Stoners. Teachers' pets.
For the longest time, I wanted to be friends with the cheerleaders, dancers and their counterparts – the girls with flowing golden hair, their lips the latest shade of Lip Smackers and their eyebrows on fleek even at the age of 13. I wanted to be friends with them badly, and would often do ridiculous things like write all of their class notes for them or give away my best mechanical pencils in exchange for 10 minutes of their time or even just a "Thanks Wendy! You're so cool." (Yeah, I know. Pretty pathetic, right?)
You'd think that because I had to deal with people who misunderstood me all the time that I wouldn't put labels on other children. But, unfortunately, I did. It's true that, for much of grade school, I got picked on for being the disabled, nerdy Asian kid and used by other students. But sometimes, the roles reversed. In my eagerness to gain points from the "popular" kids, I, too, would avoid other kids who were deemed even "lower" on the totem pole than me. I didn't want to be associated with the weirdos who ate their boogers or the girl who stuttered.
It's difficult for me to write about this, because I feel absolutely horrible. Even though I was kind to them and even though I didn't tease them or try to bring them down in order to make myself feel good like many other kids did, I'm not proud of avoiding their company when they reached out to me, hoping that at least I would be their friend. Instead of going against the grain, I labeled those kids and put them in their own little boxes in my head.
I wish I'd known then that labels wouldn't matter years later in the working "adult" world, when the only labels we'd be familiar with would be the names of departments like Marketing and Business Operations. I wish I'd focused more on the craft of writing and my school grades instead of whether or not so-and-so was going to let me sit next to her at lunch. I wish I'd accepted the friendship of others who were, honestly, too unique to be in the mainstream "popular" group anyway.
Eventually, I learned my lesson. Toward the end of high school, I found a group of friends in what young Wendy would have once called the "anime fans." We were all in Anime Club together, and even though I didn't care one bit about anime or manga, I hung out with them because they liked me for who I was and vice versa. We had fun together, and didn't care what the "popular" group at school was up to. Within our own circle, we were popular. I started standing up to the popular kids whenever I heard them saying nasty things about other people (granted, I didn't muster up that kind of courage all the time, but when it did I felt pretty proud of myself).
Over the years, as I've become more comfortable with my tracheostomy tube and opened up to close (real) friends about my disability, I've finally learned to wholeheartedly accept myself for who I am. Of course, there are days when I don't feel particularly pretty, happy or, indeed, "popular." When that happens, I think about the small network of people who care about me and who have stuck with me for a long time, and I immediately feel better. The only label I need is the one I'm called: my name.

 What are some positive adjectives you would use to describe yourself? Were you a part of any "cliques" when you were younger?
Photo Credit: David Goehring