Question of the Day: What was your favorite book to read as a child? Why?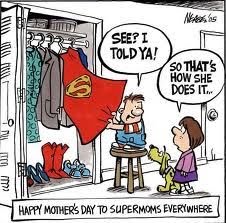 this is a cute comic square that I discovered here
Happy Mother's Day to all those who are mothers, grandmothers, stepmothers, and all other female guardians! Thanks for everything that you do for your little ones, including those like me who may not seem so little anymore. :)
Day 14: Seven things that cross your mind a lot.
food–particularly macaroni and cheese, popcorn, chocolate, and dumplings. Mmm, my favorites. Gosh I'm hungry now.
writing–I am always, always arguing with my characters and mulling over how I can improve my WiPs–whether it be the voice or the pacing or a certain scene that just isn't quite right.
blogs–I am constantly pondering over thoughts such as, "when will I have time to post another blog entry?" and "I wonder how many people have Liked my Facebook page so far?" and "Personal reminder: Blog about Lydia Kang's awesome I want to read ____ next Contest so everyone knows to sign up and participate!"
turtles–no matter what mood I am in, I love thinking about my red-eared slider turtles! The thought of them always makes me smile.
people–especially the people I love and the people who love me :) warm&&fuzzy
Superman–I mean, who wouldn't want to think about this?
sleep–sleepy sleep, can I?
Day 15: Put your iPod on shuffle. First 10 songs that play. (I provided the YouTube links for you as well)
Day 16: Something you regret.
Rather than talk about something I regret, let me tell you what I WILL be regretting in the next few days. Ladies and gentlemen, I have to announce a very tragic truth: I probably will not be able to watch the season finale–and thus, the finale to end all finales–of
Smallville
due to conflict with my travelling plans. Yes, it is no longer fair for me to call myself the #1 Superman fan. I know, I know….*disgrace*
Lastly, don't forget to sign up for my first-ever 100-followers blogfest, "Inanimation"! FIVE DAYS LEFT!!! To learn more and sign up, click HERE!!!